Administration threat looms over Egyptian Halls ground floor
July 6 2011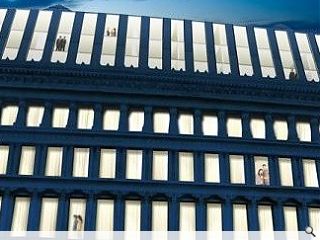 Accountancy firm KPMG have served formal court papers to Derek Souter in relation to Personal Guarantees relating to a £2m loan made to Union Street Properties, which owns the Ground Floor.
Souter avers that he is likely to have an offer of re-finance available very soon but that there is now a "possibility" of the ground floor units (owned by USP) being placed in asministration.
The remainder of the property is owned by Union Street Investments, Souter's sister company which, the developer vows, will collaborate with DBS-KPMG if and when they take it over.
Souter said: "The court action will be resisted vigorously and I'd surmise a claim for Damages will now also be launched against Dunfermline Building Society (DBS) in relation to their "alleged contractual breach" of the signed agreement.
"For the record DBS did enter Administration and in effect did go out of business and stopped lending despite having still in place a contractual agreement to lend and additional £2M to USP. For the record if the PG's are legally due, then they'll be paid!"
Back to July 2011