'Star of Caledonia' to adorn border with England
July 5 2011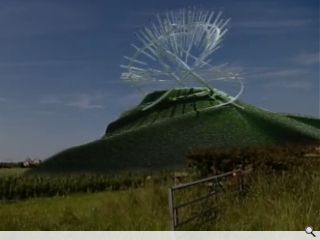 A giant star sculpture designed by Cecil Balmond has been chosen to adorn the The Scotland/England border to motorists passing through Gretna.
Beating off competition from American artist Ned Kahn and Wilkinson Eyre Architects the piece was selected by the Gretna landmark Trust for its reflection of Scotland's scientific endeavour and "magnetic pull".
Balmond said of the piece: "The Star of Caledonia is a welcome; its kinetic form and light paths a constant trace of Scotland's power of invention."
Landscape architect Charles Jencks, who is collaborating on the project, said: "Crossing the border to Scotland, across the River Sark, is now a passage obscured under a bridge by cars travelling at speed. Instead of marking this with motorway signs we are using a landform and sculpture that pulls together the adjacent site, the distant hills and the Solway."
The "whirling" creation is said to resemble anything from a starburst to energy, a thistle or St Andrew's Cross.
Back to July 2011