M74 extension to open to traffic tonight
June 28 2011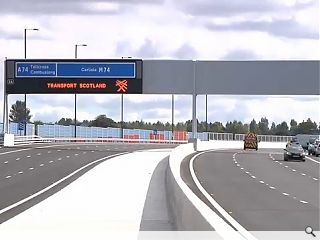 A five mile long 'missing link' in Glasgow's motorway network has today been filled with completion of the M74 motorway link between Carmyle and the Kingston Bridge.
Under construction since May 2008 it will be officially opened at 19:00 tonight, as contractors Balfour Beatty, Morgan Est, Morrison Construction and Sir Robert McAlpine open the route to traffic.
Proponents of the partially elevated roadway, notably Transport Scotland, claim it will ease congestion and bring spin off benefits to business and residents in the west of Scotland.
Opponents, including Stan Blackley of Friends of the Earth Scotland, claim the new road will exacerbate Glasgow's air pollution problems whilst any benefits brought will be "limited, short term and ephemeral."
Including the cost of compulsory land purchases the development has been estimated to have cost £692m by Audit Scotland, although the final price tag may be lower than this once construction savings are taken into account.
Back to June 2011