Construction starts on Tollcross Aquatics Centre
June 28 2011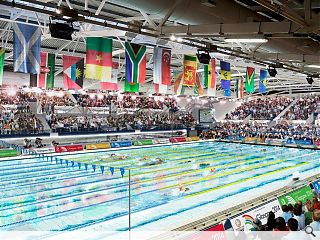 Construction work has begun on the £13.78m redevelopment of Tollcross Aquatics Centre ahead of the Glasgow 2014 Commonwealth Games.
The work will entail construction of a six lane, 50m warm up pool alongside the existing 10 lane pool in order to meet the requirements of a dedicated Games venue and to provide community facilities to replace Shettleston Burgh Halls after it was gutted by fire.
Designed by the Council's own in-house team of architects the facility will double the amount of permanent seating to 2,000 and incorporate a further 3,000 temporary seats for the duration of the Games.
Barclay Chalmers, Managing Director of Barr Construction said: "It is heartening that a Glasgow-based company has been able to deliver these top notch facilities using a locally-based workforce."
Work on the expansion is expected to conclude by early 2013.
Back to June 2011