Bannockburn Visitor Centre plans unveiled
June 20 2011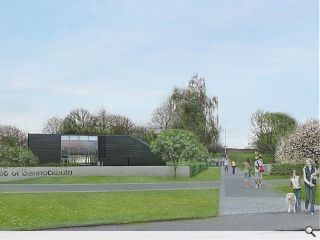 Plans for a new visitor centre to interpret and showcase the Battle of Bannockburn have been released today ahead of a planning application to be lodged later in the week.
Designed by Reiach & Hall architects the new look centre is intended to provide a more appropriate venue for presentation of the battle in addition to modernised visitor facilities in time for the 700th anniversary of the famous fight.
The project is being financed to the tune of £5m by the Scottish Government via Historic Scotland and The National Trust for Scotland with additional support being sought from the Heritage Lottery Fund for Ian White Associates landscaping work.
Lead architect Neil Gillespie, recently awarded an OBE for services to architecture, said: ""Although modest in scale our project attempts to give some gravitas back to the site, concentrating attention on the story of the battle, the rotunda, the statue of Bruce and the great prospect to the north of Stirling Castle and the Ochils.''
Historic Scotland Chief Executive Ruth Parsons said: "I am very excited to be able to unveil the new designs created exclusively for this project by Reiach and Hall. They bring with them a great empathy for what we want to achieve and I think they have created a design that will be the perfect canvas to the exceptional interpretation we are planning to introduce."
National Trust for Scotland head Kate Mavor added: "Another key element in the design is the landscaping which will open up the views of the memorial and give them back to the people of Bannockburn as the current building prevents you from looking straight through to the iconic statue of Robert the Bruce that is recognised around the world."
Back to June 2011