World War Z zombie battle to be staged in Glasgow
June 17 2011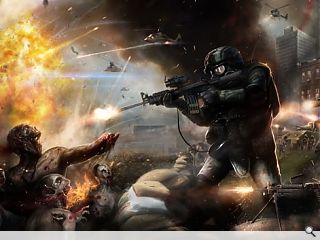 Glasgow has been selected as the perfect battleground within which to stage a zombie apocalypse by film producers working on a film adaptation of Max Brooks' hit zombie novel, World War Z.
Scenes from the production will be shot in the city during the second half of August and involve almost 1,200 cast and crew descending upon locations including Cochrane Street and George Square to stage the grisly horror – surprisingly the Gallowgate doesn't feature on the location list.
Michael Harm, Location Manager for World War Z, said: "The production spent many months looking for the perfect city centre location to play an important part in the film. Glasgow's architecture, wide roads and grid layout proved the ideal setting for director Marc Forster."
Glasgow City Council and the Glasgow Film Office played a crucial role in persuading producers to plump for Glasgow after touting the city's Victorian legacy.
Back to June 2011