Designer bird shelter sends twitchers aflutter
June 15 2011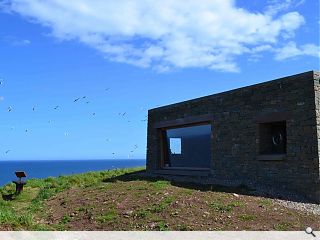 Bell Ingram Design has completed a cutting edge bird shelter for the Royal Society for the Protection of Birds in Stonehaven, Aberdeenshire.
Constructed from locally quarried stone the clifftop edifice has been designed to capture the scenic beauty of the landscape through mimicry of dry stone walling – whilst allowing twitchers to capture the natural beauty fluttering above it.
Project architect Iain Cram said: "The position of the shelter is very important as we wanted to make sure that the windows offer the best views possible.
"You can see the stunning views of Dunnottar Castle out of one of the windows and that positioning was deliberate. We set out to create a space for contemplation not a hide for hardened bird spotters. We wanted somewhere for people to admire the view in a calm atmosphere."
Simon Busuttil, East Scotland Reserves manager, said of the shelter: "It is built to nestle into the ground. The roof is a sedum mat that we hope over time will self-seed with local grasses so that the shelter disappears into the landscape. It'll take a few winters to weather in and lose its' new freshness but after that we hope it will take on an almost Neolithic feel."
The project was made possible thanks to the benefaction of George and Moyra Anderson whose last wish was to allow others to enjoy the same scenic vistas as they had.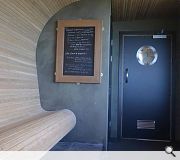 Bird watchers and walkers can now soak up the dramatic scenery in some comfort
Back to June 2011