Glasgow hosts Transport Museum preview
June 1 2011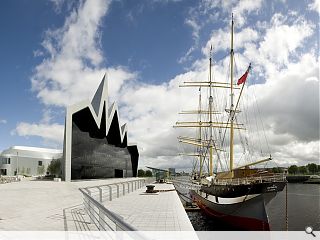 Glasgow City Council have hosted a sneak preview of Zaha Hadid's much hyped Transport Museum at Glasgow Harbour, a zinc edifice intended to present the contents of the museum in a new and engaging way and bring to life the heritage of Glasgow.
The second in a quartet of big budget museums to emerge in Scotland in recent months, commencing with the Burns Museum and concluding with the opening of the National Museum of Scotland and refurbished National Portrait Gallery, the Transport Museum is distinguished by being the most unabashedly modern.
All this cultural largesse hasn't come without discontent however with public transport access in particular coming in for criticism with those arriving by subway presented with a circuitous walk alongside busy main roads or the hassle of an additional bus journey to reach the dark opaque glass and zinc façade. Dismissing such concern Gordon Mathieson averred that the public would be up for the trek, stating: "This is the perfect location for this great museum."
Mathieson also used the occasion to bat away concern over cost, stating: "The cost was billed at £74m*, it came in on budget and on time." Continuing: "We won't create the Bilbao effect, we'll create the 'wow' effect."
The Museum will be free to access for all users but a family of four face a £10 charge to access the Glen Lee. Head of the Clyde Maritime Trust said: "It's much cheaper for people to go to the chippy than the tall shippy. It'd be nice if everything was free but that's not the world we live in."
Rod Manson, director of engineering firm Buro Happold told Urban Realm: "The length of the span, providing the column free space. What we needed to do was engineer the roof profile, both in terms of the vertical and horizontal, to twist through it and twist through it like folding a piece of paper to put a bit of stiffness through it and provide support."
A full review of the Transport Museum will be run in the June edition of Urban Realm magazine.
EDIT
* Long term followers of the museum project will of course be aware that the originally stated budget for the Museum was quoted at £50m, a figure which increased by 50% in June 2007, blamed at the time on inflation, lack of competition and a complex design.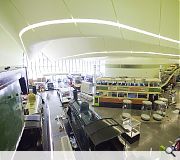 A lime green interior will greet visitors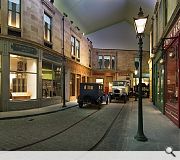 Council leaders claim the new museum will be streets ahead of the old
Back to June 2011