Strathclyde University showcase plans for Merchant City technology park
June 1 2011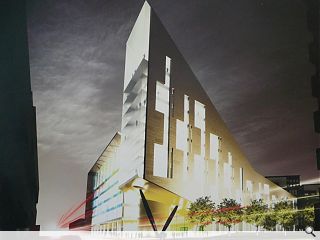 Strathclyde University have staged a pre-planning consultation into their plans for a new Technology and Innovation Centre (TIC) on a long standing gap site in Glasgow's Merchant City.
Designed by BDP the centre is intended to provide a hub for collaboration between universities, business and industry within a new International Technology and Renewable Energy Zone (ITREZ), established by Scottish Enterprise.
Offering a "welcoming and transparent base" for pedestrians the stone clad, nine storey building will house an open central atrium lined with interaction spaces and balconies.
Indicative plans also detail the "potential" for a green roof on the "deliberately expressive" structure, intended to act as a conduit between the university and wider Merchant City.
Project architect John McManus told Urban Realm that the facility could have gone higher but that it was "difficult to find things to put" on the upper levels. As it is the building will be marginally taller than a neighbouring residential block, with a double height penthouse space serving as a client meeting space.
The 22,000sq/m facility is expected to be completed in 2013 at a cost of £89m.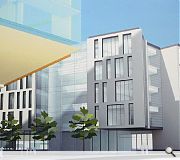 Accompanying TIC will be the construction of an Industry Engagement Building, the first in a family of buildings which all share common design aspects on the site.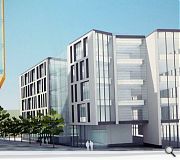 The lab will equate to around 4,800sq/m of space over five storeys
Back to June 2011