£100m theme park planned for Loch Lomond
May 4 2011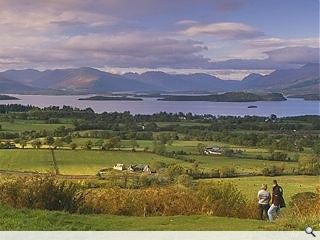 Glaswegian entrepreneur Wayne Gardner-Young has set his sights on the bonnie banks for his latest venture, a £100m theme park.
Incorporating zip slides, treehouses and a spa the park is claimed, will work with the existing nature and setting of the famed National Park setting.
The attraction would be built alongside its own hotel, caravan park and holiday lodges.
It won't be Young's first venture within the Park, the developer is currently constructing 15 holiday lodges in Balmaha and has acquired the Buchanan Arms Hotel in Drymen.
Gardner-Young told the Herald: "Negotiations are continuing, so I don't want to be exact. I will say it will be situated right on the shores of Loch Lomond and there is little doubt this will happen."
Backing up this belief Young added: "I deal with planning boards all over Scotland, and it is amazing how proactive the planners at the park authority are. They are very business-minded and, if you ask me, a breath of fresh air. It is exactly what the area needs."
The project remains in the pre-planning application stage and coukld take five years to develop.

Back to May 2011