Shapps announces first release of government land for self build projects
May 3 2011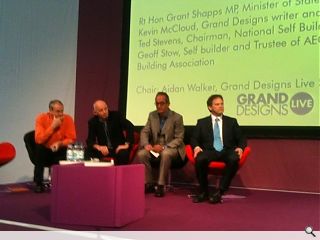 Speaking at the Grand Designs Live debate in the Excel Centre, London, housing minister Grant Shapps shared a platform with Kevin McCloud (an interview with whom Urban Realm will print next month) in which he unveiled plans for the first release of publicly owned land to self builders.

Shapps said: "What I want to do is bring self build to the masses, so that self build is for all and not just the privileged few. Building your own home should be a common way for people to get a home in this country. People know what sort of home they want to live in so building it yourself is bound to create something closer to your ideal dream. Too many people, I believe, end up living in identikit homes, I call them Legoland homes, although upon reflection I believe some Legoland homes look better than some of the identikit boxes which are all too often built in this country."

The measure will be accompanied by work to reform finance, land, regulations and lack of a cohesive structure which have hitherto hindered the industry.

Despite being accosted by McCloud over a 50% reduction in the government's housing budget Shapps enthused: "Now I know that some people are puzzled by what we mean when we talk about the Big Society. I think that community self build is in fact a perfect example of what the Big Society means, people pulling together to build their own homes and quite literally building the Big Society. For community self build projects need to become easier and we're introducing new legislation to ensure that the communities right to build in order to help that happen.
"If a community wants to go ahead and grant itself planning permission without going to the town hall and the planners then they can get a vote of the local community to go ahead with the community right to build (assuming a 50% vote in favour). Not just small villages in rural areas but in towns and cities as well.
"I think if we make self build easier it will become more common. If we can unleash the creativity in people then we will help to achieve a self build revolution in this country. If done right then self build can contribute to diverse places, raise standards and help people to achieve their dreams.People don't want to live in identikit homes anymore and that's why people who wish to build their own homes have our support and if you succeed then we'll have grand designs for all."
Back to May 2011