Stallan in response to Fraser says ... Glasgow's no had its tea'
April 19 2011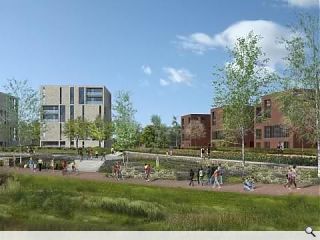 Malcolm Fraser in his
Herald article
compares the fate of a group of tenement buildings as somehow representative of all that is wrong with Glasgow's present regeneration efforts.
John Glenday has asked if I would provide a personal view on some of the issues raised in Malcolm Fraser's recent comment in The Sunday Herald on the fate of a grouping of existing Victorian Tenements at the bottom of Springfield Road in Dalmarnock.
Very simply the tenements are to be demolished to make way for Glasgow's 2014 Commonwealth Games Village. I can confirm however that the existing buildings never at any stage formed part of the Games Village brief as set by Glasgow City Council. The political case for their removal was made by the City's democratically elected members and officers, a process that none of the consortiums bidding to build the village had any involvement in. The Village site presented to our design team has always been detailed as cleared.
That said Malcolm overlooks the greater social, economic and enabling work that has been progressing slowly in the city for the over 15 years to open up Glasgow's East End. The greater planning framework for the area for which Dalmarnock is only a small part is transformational!
Glasgow City Council together with a host of community based agencies including Clyde Gateway is working hard to deliver this 'transformational' plan. Malcolm might not be able to find 'the plan' on 'Google' but the plan exists in many different forms continuously evolving. This plan in all its different forms has one objective ...'to improve people's lives'.
It is my view from direct experience that many people in the City have been working hard for a very long time to deliver improvement in a deep rooted social basis that is ultimately more sustainable than simply considering one tenement block. There are fundamental structural problems in how communities in the East End of Glasgow are integrated with each other, with Glasgow City Centre and the rest of Scotland. To resolve this Glasgow together with the Scottish Government is radically improving the East End's public transport connections in road, rail and pedestrian linkage to fundamentally unite the larger community and allow for greater access to both education and employment opportunities.
Spatially the East of the City is therefore being completely reconnected; however this is happening in tandem with an appreciation of the physical form of the existing communities. Tenement gateways at Bridgeton Cross, Parkhead Cross, Springfield Cross and Dalmarnock Cross are being reinvigorated and physically reinforced as local urban centres. The cluster of tenement buildings at the bottom of Springfield Road that Malcolm has narrowly fixed on are socially and commercially more problematic.
On balance, given the City has little monies, it has I believe been required to prioritise its regeneration efforts to the key townscape features and urban corridors of the East End not to mention school provision. Those that understand recent political history are well aware that if Margaret Thatcher when in power had not redrawn Greater Glasgow's Boundaries, disengaging the City's wealthy more conservative suburbs like Newton Mearns, Bishopbriggs, Bearsden and Milngavie, then the City would be better placed financially through Council Taxes to fund more social and urban regeneration. Not just for the sake of Glasgow but for Scotland.
The stark reality is Glasgow faces difficult choices. As a Glasgow rates payer am I am happy to pay for the upkeep of Kelvingrove Art Gallery and the Mitchell Library, understanding that the rest of Scotland has free access whilst schools across Glasgow have zero resources other than those the teachers and parents donate? I am happy to fund through my council tax the Galleries upkeep however I do wish for more equality and for greater recognition across Scotland of where deep rooted poverty exists, regardless of political perimeters and agendas.
Glasgow's East End regeneration initiative is therefore a Scottish challenge. With male life expectancy in communities like Dalmarnock, Parkhead and Haghill as low as 59, lower than it was in during World War 2, then it is pretty obvious to me that partnership working across all sectors to deliver improvement to people's lives is required. Personally I wish I could save the Dalmarnock tenements but understanding that there is greater reward in investing in other East End projects to benefit the community then ultimately I understand this is way more sustainable than Malcolm Fraser's narrow focus.
As for the Games Village itself for some reason Malcolm concludes in his article that RMJM is designing 'aspirational housing for young people'. (Not sure where he is getting his random quotes as generally does not supply his source ... creative licence). However I would clarify that the Games Village will provide a complete mix of tenure and house type. From care home provision, to market rent, housing association and private for sale the village is focused on providing a complete environment for families to make roots to grow and change and to stay within the location.
In summary we have invested a great deal of time as designers not just in the buildings but in thinking about the design of the streets and landscape, the integration of the car to prioritise the pedestrian, the incorporation of a local shops, where the bus stops are, the creation of a new community centre (which we are working on with the existing local community) and the amenity that the River Clyde frontage presents. These are just some of the areas that our client City Legacy has taken very seriously and as architects we have addressed in the hope of providing a better quality of life for people in Glasgow's East End.
Paul Stallan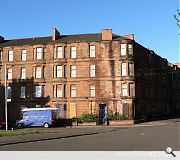 A row has erupted over the fate of these flats, whose erstwhile residents include Jeremy Paxman's nan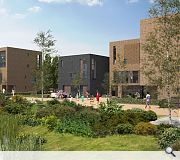 In demand family housing will replace unwanted one and two bed flats
Back to April 2011