Lego hits the big time with record breaking Brazilian tower
|
Send to friend
April 11 2011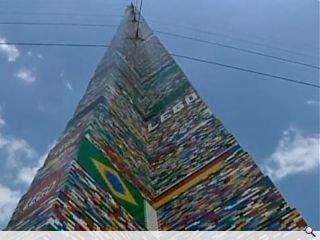 Some 6,000 Lego fans, predominantly children, have painstakingly pieced together in a Sao Paolo car park over a four day period, with individual modules being winched into position via a handy crane.
.
The babelic totem comprises 500,000 individual bricks, slotted into place by pre made panels stacked on top of the other to fashion a plastic, cable stayed erection which soars an impressive 102ft (and three inches) into the air.
The final brick was put into place by Brazilian football player Cafu.
Lego's Brazilian director, Roberio Esteves, said: "This is a very interactive event where families take part, schools take part. We promote teamwork in order to reach our main objective, which is to establish Brazil as the country that holds the record of the Lego tower."
Some 52 cities taken on the record, first set in London in 1988 with a titchy 15m.
Back to April 2011