Glasgow hosts Games Legacy Summit
|
Send to friend
April 11 2011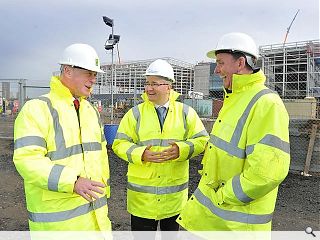 Glasgow has today hosted a Games Legacy summit which brought together Sir Richard Leese, leader of Manchester City Council along with Sir Robin Wales, Mayor of Newham Council, on site of the Glasgow Commonwealth Games 2014.
Both leaders were in town to share their experiences with the 2002 Commonwealth Games and 2012 Olympics respectively, with Glasgow City Council leader Gordon Matheson.
The trio were on hand for a photoshoot in the shadow of 3DReid's under construction National Indoor Sports Arena and Velodrome whilst sharing their insights as tothe legacy and impact of these events – and any parallels which might be drawn with Glasgow.
Sir Richard Leese, Leader of Manchester City Council, said: "Properly planned as part of a long-term strategy, major sporting events have a real and positive impact on economic growth, regeneration and community benefit.
"The Commonwealth Games in Manchester 2002 was a real catalyst for the renewal of the old former industrial area of East Manchester and a key economic driver for the Manchester city-region as a whole. Nine years later we are still reaping the benefits. I am pleased to see that Glasgow's legacy plans mean they are heading the same way."
Sir Robin Wales, Mayor of Newham - where two thirds of London 2012 will take place - said: "The Olympics is all about inspiring people. I have always said the real benefits of the Games come in making people's lives better. They will provide a huge boost to the regeneration of Newham and we will be working hard to maximise the opportunities for local people."
Back to April 2011