Liverpool Everyman theatre secures funding
|
Send to friend
April 5 2011
A planned redevelopment of the Everyman & Playhouse theatre in Liverpool has been put on a firmer footing following approval of a £5.9m grant from the European Region Development Fund.
Designed by Haworth Tompkins alongside Alan Baxter & Associates the £28m scheme will see the existing theatre demolished to make way for a 400 seat replacement, including stage and technical facilities.
Despite this latest award the project is still £2.1m short of the £28m needed for the development to proceed, necessitating a period of further fundraising by the theatre this autumn.
The curtain will fall on the existing theatre this July, with its replacement set to open its doors to the public in 2013.
The new and improved theatre will boast a bistro, studio for youth and community work, a room for writers and full disabled access.
Deborah Aydon, executive director of the theatre, said: "After 10 years of planning and many funding setbacks we are absolutely delighted to reach this point. In just a few months we will be on site, working to create an inspiring new Everyman for generations to come."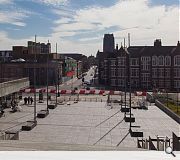 Liverpool and Merseyside Theatres Trust are behind the venture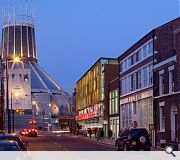 The Hope Street facade will incorporate an artwork composed of full size portraits of local people
Back to April 2011