Run Down Aberdeen documentary highlights city's decline
|
Send to friend
April 1 2011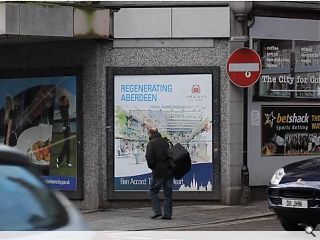 Aberdonian journalist and film maker, Fraser Denholm, has painted a bleak portrait of his home town for a new documentary, Run Down Aberdeen.
It charts the granite city's decline since the war, criticising historic and contemporary planning decisions from the Trinity Centre and St Nicholas House right the way through to Sir lain Wood's City Square proposals.
Denholm charts the dichotomy of such wealth and squalor in a small city, narrating: "Aberdeen the oil capital of Europe, the energy capital of Europe, the silver city with the golden sands. Over the last few decades Aberdeen city centre has seen a slow and steady decline. The once immaculate granite facades are dulled by grime, weeds grow into forests from guttering and gaps in the stone. Chipped cornices and tarnished street plaques provide the rough edges."
Digging to the root of this malaise Denholm speaks to a range of MSPs, councillors, writers and residents asking what can be done to enforce the maintenance of neglected privately owned properties and ensure Aberdeen shines again.
Run Down Aberdeen from Fraser Denholm on Vimeo.
Back to April 2011