Scottish Design Awards 2011: Nominations
March 28 2011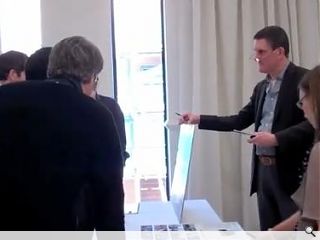 A full list of nominees for this years Scottish Design Awards have been chosen following a day of deliberation from our judging panel.
Take a gander at the list below and see who is still in the running and who has stumbled at the first hurdle.
Winners will be announced at a ceremony on the 19th May, for further details please contact lyndsay.wilson@carnyx.com, 0141 559 6063.
Lighting
NOMINATION
Company: Spiers + Major
Client: Las Vegas Sands Corporation
Title: Sands Casino Resort Bethlehem, pa USA
Lighting Designers: Jonathan Speirs / Sarah Wisher
Photographer: Alyssha Eve Csuk
NOMINATION
Company: KSLD
Client: The Ashmoleean Museum
Title: The Ashmoleean Museum, Oxford
Design Director: Kevan Shaw
Senior Design: Hannah Neufeld
Designer: Natalie Bell
Design Assistant: Claire Hope
NOMINATION
Company: Speirs + Major
Client: Usher
Title: Usher Hall Interior Lighting, Edinburgh, UK
Lighting Designers: Jonathan Speirs / Carrie Donahue Bremner / Caterina Colle / Melanie Rosenthal
Architect: LDN Architects
Chandelier Manufacturer: Mike Stone Lighting
Photographer: James Newton
Interior Design
NOMINATION
Company: G1 Group
Client: G1 Group
Title: The Corinthian Club
Creative: Jim Hamilton (Graven Images)
NOMINATION
Company: RMJM Scotland Ltd
Client: South Lanarkshire Council
Title: St Joseph's Primary School, Blantyre
Main Contractor: Kier Scotland Ltd
Structural Engineer: Goodson Associates
Landscape Architect: TGP
Photographer: Keith Hunter
NOMINATION
Company: CM Design Consultants
Client: Brewdog
Title: Brewdog, Aberdeen
Designer: Mark Brunjes
NOMINATION
Company: Page / Park Architects
Client: Dollar Academy
Title: Dollar Academy Sixth Form Centre
Structural Engineer: SKM (Edinburgh)
Services Engineer: Harley Haddow Partnership (Edinburgh)
Contractor: Sharkey
Photography: Andrew Lee
CDM-C: Kirk & Marsh Ltd
Regeneration
NOMINATION
Company: Oberlanders Architects LLP
Client: Fountain North Ltd
Title: Springside
Quantity Surveyors: CBA – Bruce Cragill
Structural Engineer: Goodson Associates Ltd – Frank Boyne
Mechanical and Electrical Engineer: Blackwood Partnership – Stuart Lowe
Landscape Architect: EDAW PLC – Ben Palmer
Main Contractor: BAM Construction UK Ltd – Martin Cooper
CDM coordinator: Peter Graham & Partners
NOMINATION
Company: Austin-Smith: Lord
Client: Irvine Bay Regeneration Company
Title: Kilwininning Town Centre Regeneration Plan
Project Director: Graham Ross
Architecture: Niall Murphy
Landscape Architects: Lesley Millar
Conservation: David Millar
Graphics: Alison Gray
NOMINATION
Company: Collective Architecture
Client: Sanctuary Scotland
Title: Unwood Regeneration
Project Manager: Robert Taggart (Turner + Townsend)
Architect: Andrew Gower
Engineer: Graham Ballantyne (Scott Bennett Associates)
Contractor: Ashleigh (Scotland) ltd
Photographer: Andrew Lee
Residential
NOMINATION
Company: Nord Architecture Ltd
Client: Living Architecture
Title: Shingle House
Architecture: Nord
NOMINATION
Company: HLM Architects
Client: Highland Housing Alliance / O'Brien Properties
Title: plot_11 the passive house terrace
Project Director: Lorraine Robertson
Project Architect: Ross Barrett
Project Technician: James Lindsay
Landscape Architect: Simon Bell
Structural & Services Engineer: Buro Happold
Consulting Engineer: Scottish Passive House Centre
Interior Design: HLM / Craft House Concept
NOMINATION
Company: Simon Winstanley Architects
Client: Mr & Mrs S Winstanley
Title: The Houl
Architect: Simon Winstanley
Engineer: Asher Associates
Landscape: Paterson Landscape
Contractor: 36 Construction
NOMINATION
Company: Brennan & Wilson Architects
Client: Highland Housing Alliance
Title: The Whole Life House
Architects: Julie Wilson and John Brennan
Affordable Housing
NOMINATION
Company: Gokay Deveci (RIBA, RIAS) Chartered Architect
Client: Peter McDonald (Fyne Initiatives Ltd)
Title: Tigh-Na-Cladach (House by the shore)
Architect: Professor Gokay Deveci, Gary Smollet, Raju Noor
Engineer: Jim Pickett (Ramage Young)
Q.S: Tommy McQuade (Morham & Brotchie)
Contractor: Gillies Brown, John Brown (Strone) Ltd
CDN Coordinator: Alan Rogers (Pentran)
Photographer: Andrew Lee
NOMINATION
Company: Michael Laird Architects
Client: Mactaggart & Mickel Ltd / Dunedin Canmore Housing Ass
Title: St Mark's Quay Affordable Housing
Architect: Michael Laird Architects
Structural Engineer: Halcrow Yolles
Contractor: Mactaggart & Michel
Landscape Architecture: Keith Woud
Photographer: Paul Zanre
NOMINATION
Company: Austin-Smith: Lord
Client: Bield Housing Association
Title: Pearce Street Govan
NOMINATION
Company: Collective Architecture
Client: Partick Housing Association
Title: Byron Street
Architect: Collective Architecture (Alan Smith)
Engineer: Scott Bennett Associates (Eric Graham)
Quantity Surveyor: Armour Construction Consultants (Kenny Barclay)
Contractor: Stewart & Shields Ltd
Photographer: Andrew Lee
Leisure / Culture Building or Project
NOMINATION
Company: LDN Architects llp
Client: City of Edinburgh Council
Title: Usher Hall
Architect: Michael Hamilton
Quantity Surveyor: Gleeds
Services Engineer: Irons Foulner Partnership
Structural Engineer: Will Rudd Davidson Ltd
Access Consultant: People Friendly Design
Landscape Architect: Ian White Associates
Lighting Designer: Speirs and Major Associates
NOMINATION
Company: RMJM Scotland Ltd
Client: Bathouse Properties Ltd / The Modern Institute
Title: The Bathhouse Gallery
Structural Engineer: Hodgins Smith Partnership
Main Contractor: CCG Scotland Ltd
Quantity Surveyor: Campbell Martin Associates Ltd
Pre Build Photography: Kieran Dodds
Post Build Photography: Neale mith
NOMINATION
Company: G1 Group
Client: G1 Group
Title: The Corinthian Club
Creative: Jim Hamilton (Graven Images)
NOMINATION
Company: Page / Park Architects
Client: Dundee City Council
Title: McManus Galleries in Albert Square
Structural Engineer: Dundee City Council
QS: DCC
Contractors: Muirfield Contracts and Torith
Landscape Architects: Ian White Associates
Photography: Andrew Lee
Health Building or Project
NOMINATION
Company: Anderson Bell Christie
Client: NHS Greater Glasgow & Clyde
Title: The West Centre
Architect: Scott Young
Main Contractor: Stewart Bennett (Ogilvie Construction)
Quantity Surveyor: Alan Shanks (Reid Associates)
Mechanical & Electrical Engineer: Campbell Kelly (EDP Consultant Engineers)
Civil & Structural Engineer: Brain Hamilton (Scott Bennett Associates)
Fire Consultants: Will Marshall (Jeremy Garner Associates)
Clerk of Works: Jim Sommerville (Clerk of Works Inspection Services)
Artistworks: Tim Taylor
Exteriors: Tassy Thompson
Photographer: Keith Hunter
NOMINATION
Company: Richard Murphy Architects
Client: NHS Fife
Title: Muirview, Stratheden Hospital, NHS Fife
Architects: Richard Murphy, Graeme Armet, Brian Tobain
Structural Engineer: URS
Project Manager: Cyrill Sweet
M+E Engineers: Capita Symonds
NOMINATION
Company: Holmes Partnership
Client: NHS Greater Glasgow & Clyde
Title: Renfrew Health & Social Work Centre
NOMINATION
Company: JM Architects
Client: The City of Edinburgh Council
Title: Firrhill Respite Centre
Project Architect: Ciaran Quinn
Design Architect: Rob Duncan
NOMINATION
Company: Austin-Smith: Lord
Client: NHS Ayrshire & Arran
Title: Girvan Community Hospital
Project Partner: Iain Wylie
Project Director: George Wren
Project Architect: Andrew McCafferty, Colin Miller
Interior Designer: Vicky Gibbons
Education Building or Project
NOMINATION
Company: Ingenium Archial Ltd
Client: Scottish Boarders Council
Title: Kingsland Primary School
NOMINATION
Company: LDN Architects llp
Client: University of Edinburgh Estates and Buildings
Title: University of Edinburgh Business School
Architect: Dermot Patterson
Quantity Surveyor: Colin Wallace (KLM Partnership)
Structural Engineer: John Robson (SKM Anthony Hunts)
Services Engineer: Darren Goodwin (Buro Happold)
CDM Coordinator: Derek Thorburn (LDN Architects)
Clerk of Works: John Hunter (Sentinel)
AV Project Manager: John Power (AVTS)
Main Contractor: Graeme Marshall (Interserve)
NOMINATION
Company: RMJM Scotland Ltd
Client: South Lanarkshire Council
Title: St Joseph's Primary School, Blantyre
Main Contractor: Kier Scotland Ltd
Structural Engineer: Goodson Associates
M&E Engineer: Davie & McCulloch
Fire Engineer: Safe
Landscape Architect: TGP
Environmental Consultant: Envirocentre
Photographer: Keith Hunter
NOMINATION
Company: Malcolm Fraser Architects
Client: The Royal Scottish Academy of Music and Drama
Title: Speirs Locks Studios
Architects: Clive Albert / Robin Livingstone
NOMINATION
Company: RMJM Scotland Ltd
Client: Napier University
Title: Napier University, Sighthill Project
M&E: Buro Happold
Main Contractors: Balfour Beatty
Project Manager: Cyril Sweett
Planning Consultant: Jones Lang LaSalle
Traffic Consultant: Grontmij
Space Consultant: Stellae Ltd
Photography: Paul Zanre

Commercial/Offices Building or Project
NOMINATION
Company: Cooper Cromar
Client: HF Developments
Title: g1 Glasgow
Architects: Simon Walsh /Graham Forsyth
Project Manager: David Adams (Adams Consultant Group)
Cost Consultant: Kenny Deans (G & T)
Engineer: Malcolm Buchanan (Woolgar Hunter)
Mechanical & Electrical Engineer: Bill Haggart (Ramboll)
NOMINATION
Company: LDN Architects llp
Client: Buro Happold
Title: Bread Street
Architect: Mark Sigwick
Quantity Surveyor: Alan Harper (Morham & Brotchie)
Structural Engineer: Buro Happold
Services Engineer: Buro Happold
Main Contractor: O'Neill Interiors
Retail Building or Project
NOMINATION
Company: Cooper Cromar
Client: Ivanhoe Cambridge
Title: St Enoch Centre, Glasgow
Interior Design: Haskoll
Structural Engineers: Arup Scotland
Services Engineers: Ramboll
Project Manger: Cyril Sweett
Lighting Design: Speirs & Major
NOMINATION
Company: Manson Architects
Client: Tesco Stores Ltd
Title: Retail Development, Banchary
Structural Engineer: Goodson Associates
Mechanical & Electrical: EIC
QS: Thomas & Adamson
Contractor: Barr Construction
Public Building
NOMINATION
Company: LDN Architects llp
Client: Morningside Parish Church
Title: Morningside Parish Church
Architect: Mark Sidgwick
Quantity Surveyor: Morham and Brotchie (Alan Harper)
Structural Engineer: Elliott and Company (Peter Elliott)
Services Engineer: Irons Foulner Partnership (Sturat MacPherson)
NOMINATION
Company: Lee Boyd Ltd
Client: Stirling District Tourism
Title: Extension to Wallace Monument Visitor Centre, Stirling
Structural Engineer: David Narro Associates
Services Engineer: RSP LLP
Quantity Surveyor: Morham & Brotchie Ltd
CDM Co-ordinator: Stewart Anderson Associates
Contractor: Marshall Construction Ltd

Proposed Building
NOMINATION
Company: Collective Architecture
Client: Glasgow City Council
Title: Argyle Street Regeneration
NOMINATION
Company: Draw Architects Ltd
Client: Heritors Prime Scotland c/o Price Water Coopers Edinburgh
Title: Spylaw Residential
Architect: Mark Bingham
Re-use of a Listed Building
NOMINATION
Company: Page / Park Architects
Client: Dundee City Council
Title: McManus Galleries in Albert Square
Structural Engineer: Dundee City Council
QS: DCC
Contractors: Muirfield Contracts and Torith
Landscape Architects: Ian White Associates
Photography: Andrew Lee
NOMINATION
Company: Novo Design Studios
Client: The Townhouse Collection
Title: Blythswood Square Hotel, Glasgow
Interior Designer: Gravens Images
Structural Engineer: Thomson & Partners
Services Engineer: Dunwoods LLP
Quantity Surveyor: MacDonald Alexander
NOMINATION
Company: WASPS Studio
Client: WASPS Studio and The WASPS Trust
Title: The Briggait, Glasgow
NOMINATION
Company: Austin-Smith: Lord
Client: Stockport College
Title: Stockport College – Phase 2b
Project Mentor: Roan Ruthford
Conservation Architect: David Millar
Site Project Architecture: Mike Davies
Project Director: Trevor Conley / Laura Shirliker

Low Cost Project
NOMINATION
Company: erz Limited
Client: St Mathews Church and Community Growing Goup
Title: The Concrete Garden
Designer: erz Limited
Main Contractor: Glasgow Wood Recycling
Structural Engineer: Woolger Hunter
NOMINATION
Company: Fergus Purdie Architect
Client: Cairngorm Mountain Trust
Title: Camera Obscura – Dark Chamber - Cairngorm
NOMINATION
Company: Malcolm Fraser Architects
Client: London Fieldworks
Title: Outlandia Fieldstation
Architects: Niall Jacobson / Malcolm Fraser
Engineering Design
NOMINATION
Company: Buro Happold
Client: National Trust for Scotland
Title: Robert Burns Birthplace Museum
Architect: Simpson & Brown
Quantity Surveyor: Morham & Brochie
Project Management: Capita Symonds
Exhibition Designers: Continuum Group
Contractor: Border Constrction
NOMINATION
Company: Sinclair Knight Merz
Client: Scottish War Blinded
Title: Scottish War Blinded Facility
NOMINATION
Company: David Narro Associates Ltd
Client: Mr & Mrs MacLoan - Bristol
Title: White House, Coll
Project Director: David Narro
Project Manager: Ben Adam
Senior Technician: Chris Scott
Architects: WT Architecture
Photographer: Andrew Lee
Public Realm/Landscaping
NOMINATION
Company: Page / Park Architects
Client: Dundee City Council
Title: Albert Square (McManus Galleries, Dundee)
Structural Engineer: Dundee City Council
QS: DCC
Contractors: Muirfield Contracts and Torith
Landscape Architects: Ian White Associates
Photography: Andrew Lee
NOMINATION
Company: Austin-Smith: Lord
Client: Irvine Bay Regeneration Company
Title: Kilwinning Main Street
Project Director: Siobhan Vernon
Landscape Architect: Lesley Samuel / Bruno Les
NOMINATION
Company: Land Use Consultants
Client: Highland Council
Title: Inverness City Centre Streetscape and Transportation Project
Project Director: Martin Tabur
Project Manager: Duncan McLean
NOMINATION
Company: Gillespies LLP
Client: Clyde Gateway
Title: Bridgton Cross, Glasgow
Place Making / Master Planning
NOMINATION
Company: Sheppard Robson
Client: Clyde Gateway Urban Regeneration Company
Title: South Dalmanock Masterplan
NOMINATION
Company: Collective Architecture
Client: Glasgow City Council
Title: Argyle Street Regeneration (Kiosks)
Project Leader: Collective Architecture
Engineer: David Narro Associates
Landscape Architect: Gillespies LLP
Artist: Martin Boyce
NOMINATION
Company: Nord Architecture + erz Ltd
Client: Urban Splash / Renew North Staffordshire
Title: Canal Quartez Hanley
Landscape Architect: erz Ltd
NOMINATION
Company: Smith Scott Mullan Associates
Client: Dumfries and Galloway Council
Title: Stranraer Waterfront Masterplan
Construction Advisor: Drew Mackie Associates
Urban Designer: Jon Rowland Urban Design
Economist: Yellow Book Ltd
Movement Consultant: Hamilton Baillie Associates

Sustainable Design
NOMINATION
Company: HAA DESIGN Ltd
Client: Arup Group
Title: Scotstoun House
Project Architect: Gillian Lockyer
Interior Designer: Jean Camplisson / Lynne Semple
Consultant: Hugh Anderson
Photography: McAteer
NOMINATION
Company: Gokay Deveci (RIBA, RIAS) Chartered Architect
Client: Peter McDonald (Fyne Initiatives Ltd)
Title: TIGH-NA-CLADACH (House by the shore)
Architect: Professor Gokay Deveci, Gary Smollet, Raju Noor
Engineer: Jim Pickett (Ramage Young)
QS: Tommy McQuade (Morham & Brotchie)
Contractor: Gillies Brown, John Brown (Strone) Ltd
CDM Coordinator: Alan Rodgers, Pentran Glasgow
Photographer: Andrew Lee
NOMINATION
Company: Gaia Architects
Client: Highland Council
Title: Acharacle Primary School – Pilot Sustainable Project
Architect: Samuel Foster
Contract Administrator: Howard Liddle
MRE Consultant: Wayne Butler (ARUP Scotland)
Structural Engineer: Andrew Fleming (Fairhurst Consulting)
Quantity Surveyor: John Stephen (Allied Surveyors)
CDM Coordinator: Mark Stephenson (Torrance Partnership)
Contractors: McGregor Construction / Sohm Holzban (Alberschwende)
NOMINATION
Company: HLM Architects
Client: Highland Housing Alliance / O'Brien Properties
Title: plot_11 passive house terrace
Project Director: Lorraine Robertson
Project Architect: Ross Barrett
Project Technician: James Lindsay
Landscape Architect: Simon Bell
Structural Engineer: Buro Happold
Consulting Engineer: Scottish Passive House Centre
Interior Design: HLM

Future Buildings
NOMINATION
Company: Sheppard Robson
Client: University of Edinburgh
Title: Scottish Centre for Regenerative Medicine
Partner: Andrew Bowles
Design Director: Tony O'Brien
Project Leader: Luke Thurman
Architect: Angus Barday
Associates: Ian Smith / Maryanne Crompton
Architectural Assistants: Suzanne Tighe / Ninian McQueen
NOMINATION
Company: Oberlanders Architects LLP
Client: Watkin Jones Ltd
Title: Sugarhouse Close
Architect: Valentin Hunzinger
Quantity Surveyor: Watkin Jones Ltd
Structural Engineer: Goodson Associates, William Rudd Davidson, Gillian Cooke
Electrical Engineer: Watkin Jones Ltd
Main Contractor: Watkin Jones Ltd
CDM Coordinator: Watkin Jones Ltd
Back to March 2011