World's first tidal array approved for Islay
March 17 2011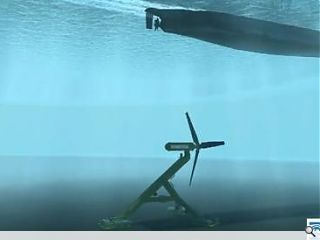 An underwater tide farm is to be built in the Sound of Islay off the west coast of Scotland, the first of its kind in the world, after Scottish Power Renewables were granted planning permission.
It will allow the installation of 10 turbines capable of harnessing the powerful tidal flows in the area to deliver 10 megawatts of energy, sufficient to power 5,000 homes.
Keith Anderson, chief executive of Scottish Power Renewables, said of the scheme: "Today's announcement moves the whole marine renewables industry forward in Scotland and the UK.
The Islay scheme will act as a proving ground for much larger offshore installations, including a 1,600 megawatt array in the Pentland Firth.
The UK is seen as a world leader in tidal energy research but it will be a Norwegian firm, Hemmerfest Strom, who will manufacture the underwater machines.
Scotland is estimated to possess around a quarter of Europe's potential tidal energy resources and a tenth of the wave capacity.
Back to March 2011