Engineer attacks architect designed streets
February 15 2011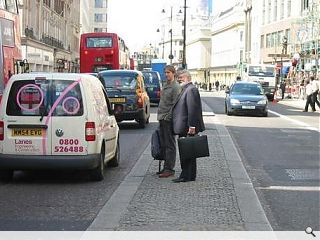 Doug Stewart, an Aberdeen based civil and mechanical engineer, has published a critique of shared spaces, describing the concept as a "dangerous step back in time," – whilst admitting a "commercial interest."
In a letter first published in Local Transport Today Stewart wrote of his fruitless search for before and after studies on the removal of guardrails, writing: "The zero response is in marked contrast to the wealth of information from a similar exercise 25 years ago.
"But that was before architects rather than engineers designed streets, and 'legibility in the urban realm' superceded safety."
Drawing on evidence from the past Stewart has concluded that shared space streets are "lethal", pointing out that the pedestrian death rate per car was once about 50 times higher than today.
Stewart refers to his own research into guardrails in the 1980s where concealed guardrails were replaced by high visibility guardrails. The engineer recalls: "The resulting validation that casualty rate reduced by 80% should have rung alarm bells at the DfT, because of the huge potential for saving lives by mass action at similar sites.
"Shared space streets may, 'look great'. But only if you are the sort of sad individual who finds car parks beautiful. Most of us would prefer to be safe," Stewart concludes.
Back to February 2011