Dumbarton introduces 'shopjackets' to disguise vacant units
February 8 2011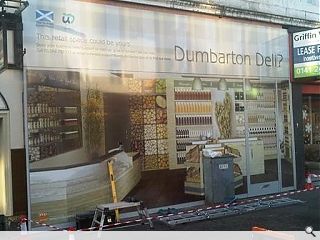 West Dunbartonshire Council is to invest £20k and mask derelict shop units in Dumbarton, with 'shopjackets'.
Up market business facades have been placed over empty units in the town to give the impression that the town is still thriving, including a newly not opened fake butchers on the High Street and a 2 dimensional delicatessen.
Neil Wilson, of shopjacket, the firm which will carry out the work said: "People say it's just a sticking plaster, but sticking plasters heal wounds and that's what empty shops are, wounds damaging our High Streets."
The scheme follows similar work on Glasgow's Style Mile which has seen 15 empty units transformed by commissioned artwork.
Across the UK it is estimated that around 13% of stores currently lie vacant.
The work coincides with Council plans to borrow almost £50m to proceed with the redevelopment of the Alexandria, Clyde and Artisan shopping centres in a bid to reduce the proliferation of empty units.
Back to February 2011