Nord pen Glaswegian tenement infill
February 7 2011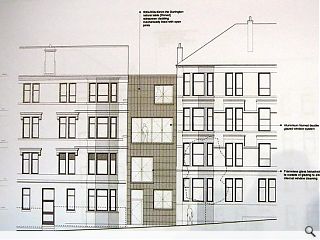 Nord have submitted plans for a 2 bedroom tenement infill development at 19 Wilton Drive, in Glasgow's west end.
Described as an "assertive contrast" the scheme will entail demolition of an existing single storey structure and its replacement with a £175k dwelling to eliminate the "negative airspace" of the present site.
Justifying demolition Nord avow that the existing building is both in poor repair and "essentially neutral" whilst making "no positive contribution to the visual amenity of the street."
In its stead will rise a "contemporary" response that eschews decoration for minimalist use of slate cladding and staggered openings that reflect the solid/wall balance of the streetscape and "allow the elevation to be read as wider than it actually is."
Dark frames and panels are introduced to visually relate the new interventions to existing openings with a tiled grid façade that mirrors the traditional bay windows.
The townhouse will boast its own dedicated entrance.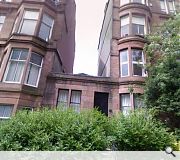 Nord took inspiration from this approved scheme at 20 Havelock Street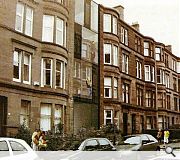 The existing gap tooth structure is in poor repair
Back to February 2011