Debate ignites over "unsatisfactory" GSA extension
February 5 2011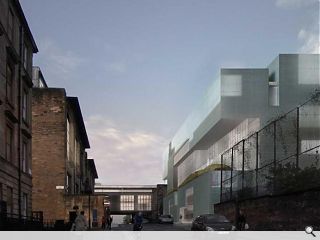 Steven Holl may have won over the likes of Muriel Gray, Isi Metstein and the GSA's own head of architecture, David Porter in an
international design competition
for an extension to the iconic school, but that hasn't stopped architectural critic William J.R Curtis from sticking the boot in via comments first published in the AJ.
Where Mackay praised Holl's "poetic use of natural light to enhance the spatial itineries of his beautifully crafted buildings," Curtis sees "dim wells in the winter" instead and complains that: " the glass exteriors could reflect too much daylight onto the north studio windows of the old building in the summer."
Curtis wrote: "The Holl scheme is hopelessly out of scale with Mackintosh's building, the external volumes are clumsy, the surfaces of glass are monotonous and without relief, and there is little the human figure can relate to."
Warming to his theme Curtis continued: "Rather than a dialogue between new and old, there is mute assertion; rather than poetic articulation, there is bland geometry; rather than tectonic clarity, there is a thin glazed skin with indecisive details. Holl has failed to grasp the urban grain of Glasgow with its hierarchy of facades from the domestic, through the commercial, to the civic."
One reader to take umbrage at such assertions was a certain Steven Holl who took time out from his design work to pen a riposte to the AR, after becoming aware of the commentaries appearance there, complaining that Curtis's criticism betrayed a lack of knowledge in his scheme.
"The new building will not reflect light onto the Mackintosh building since its skin is matte glass. This material is almost like alabaster. It is soft, without reflection," Holl wrote. Adding: "Only about 15 percent of the façade glows, so this will not alter the glowing quality of the original building."
Holl concluded: "It would not be possible to replicate (the Mackintosh's) intricacy, and it would be a travesty to imitate it."
Back to February 2011