Design competition opens in Carbuncle town
February 7 2011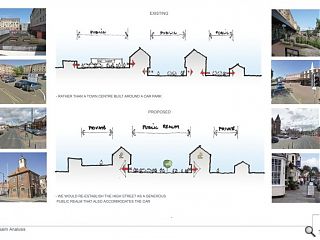 Denny, the Stirlingshire resting place of the 2010 'Plook-on-the-Plinth' trophy, is building upon the momentum of a Spring appearance on the
BBC's One Show
with a week long "lance the boil" event that aims to transform the Carbuncle capital into a beauty spot.
Urban Realm, the architecture magazine which runs the annual Carbuncle Awards, is hosting a series of public exhibitions in the town centre as a means of engaging the wider public in plans for the redevelopment of the infamous Church Walk blocks which blight the otherwise scenic communities High Street.
Some of Scotland's top architectural practices have been signed up for the initiative; including RMJM, Alan Dunlop Architects and 3DReid, together with a host of individual submissions. Feedback obtained at these sessions will be compiled at the events conclusion and issued to Falkirk Council in a bid to build momentum behind long promised redevelopment plans.
Carbuncles spokesperson John Glenday said: "Our unwelcome accolade may have put Denny on the spot but it will also help to give the town an altogether different complexion by showcasing Denny not as it is but how it could be.
"The range of approaches adopted by our contenders illustrate not only how to clear up the blemish at the heart of Denny but also highlight the advantages inherent to a bottom up approach to design."
The Denny exhibition will run at the following locations and times:
Denny Parish Church Hall.
Monday 7th, 12.00-3.00pm (Tea Morning)
Tuesday 8th, 7.00-9.00pm
St Alexander's Crypt Hall.
Wednesday 9th, 7.00-9.00pm
Thursday 10th, 12.00-3.00pm
Back to February 2011