London Road mural unveiled
February 4 2011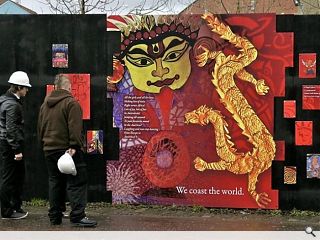 A 100m long mural designed by Eastbank Academy and 6274 has been unveiled on
London Road
, in the heart of Glasgow's east ends.
The colourful eye catcher has been produced as part of the arts strategy behind the new Eastgate office building, designed by
Cooper Cromar
, which is due to rise on the Brownfield site.
Taking three months to create the piece depicts a series of transitions from famous Glaswegian landmarks and self portraits of the artists to natural landscapes and back.
Lines of poetry are interspersed with the visuals to recall the past and look to the future of the unassuming stretch of tarmac - by 2014 London Road will be one of the key routes into the Commonwealth Games site.
Peter McCaughey, lead artist at WAVE said: "The East End has a proud and significant history of industry and innovation, of making things that couldn't be made elsewhere. We hope this artwork is seen in the same light. Bold, daring, of wonderful scale and ambition and made by the hands of local people, reaching out to the rest of the world."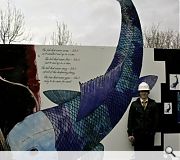 Not just a pretty picture the creative hoarding tells its own story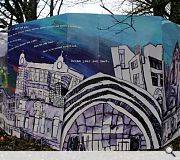 The fish that never swam features prominently on Glasgow's coat of arms
Back to February 2011