Urban Realm changes hands
February 3 2011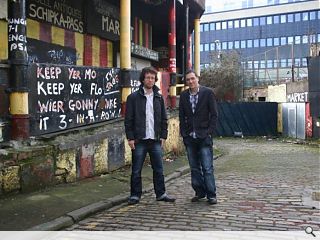 Urban Realm, the UK's oldest architectural magazine, has been acquired by two members of its management team from Carnyx Group Limited.
Founded in 1922 as Prospect, Urban Realm was re-launched last year under then editor Gordon Young, in a move that culminated in the title winning recognition as
Magazine of the Year by PPA Scotland
.
Now however deputy editor John Glenday and sales director Kasia Uliasz have assumed full control of the title via a new entity, Urban Realm Limited.
Included in the deal is a quarterly magazine, urbanrealm.co.uk, the Scottish Architecture Annual and the well known Carbuncle Awards; which seeks to identify the most dismal towns in Scotland each year.
Gordon Young, who as well as editing Urban Realm is a director of Carnyx Group said: "Urban Realm was one of the best fun magazines I have ever worked on, which also had a very serious agenda; campaigning for a better urban environment.
"We were passionate about the magazine and that message which is why we are delighted John and Kasia will now give Urban Realm the focus it deserves."
Said Glenday, "These changes will allow us to devote the time and energy to Urban Realm that our built environment demands. It will also allow us to introduce a number of improvements for 2011; such as better integration of our websites, more frequent online updates and the introduction of a digital edition of our magazine."
Back to February 2011