Ryder unveil Bonhill Primary
December 13 2010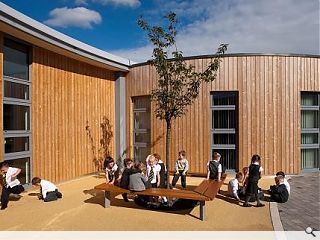 Ryder Architecture has completed a traditionally procured £5m school offering flexible teaching accommodation for 220 students within the village of Bonhill.
Built from red sandstone, Siberian larch timber weather boarding, white through colour render and glazing the school will accommodate a library and IT suite.
Teaching space is wrapped within two sweeping wings of accommodation which enclose a series of external learning and social spaces.
Paul Bell, director Ryder Architecture, said: "The importance and value of structured engagement with the school community is clearly demonstrated by the fact that the initial design concept can be traced directly to an early engagement session with the school's pupil council using simple block model elements on a site plan base.
"They proposed a circular arrangement of class bases protecting an outdoor space which could not be misused out of school hours. This led to the concept of the protected courtyard surrounded by the teaching wings."
Bell added: "As with all new school buildings, the design must be capable of meeting future needs such as fluctuations in school roll, methodological or management changes and potential reductions in class size.
"Corridors have generally been avoided. Learning activity is possible in pupil circulation spaces.
"Movable partitions between classrooms and the breakout area allow classrooms to extend as the need arises, and a movable screen between the hall and the breakout space provides flexibility for this major resource."
The previous Bonhill Primary, a sandstone structure from 1874, will soon be demolished.
Photography by Kristen McCluskie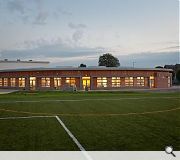 A science meadow, wildlife garden and mixed hedgerow boundary fosters biodiversity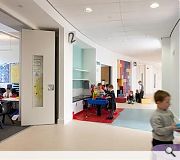 The design is scaled for young children
Back to December 2010