Denny design competition gets underway
|
Send to friend
November 19 2010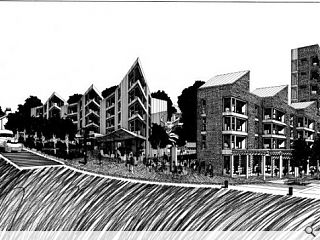 Denny may have embraced the Carbuncle cause this year but it did so only on the proviso that Urban Realm get behind the community and put forward design proposals for their ailing town centre. In response UR solicited design ideas from industry professionals, local residents and students for how the town can be made better... and we have been inundated with responses.
The focus of our efforts lies with a development known as the Church Walk Blocks, a series of four residential/retail units constructed in the late 1960's which are now long past their sell by date. Henry Boot Developments has been appointed by Falkirk Council to deliver a £13m regeneration plan by Keppie Design for the site this remains unrealised in light of the economic downturn. There is a window of opportunity then to reassess what Denny should be and that is what we aim to accomplish here.
New housing is needed for the Denny area but market forces are pushing that requirement to the suburban eastern fringe. This competition is designed to investigate ways of promoting an affordable live/work combination for the town centre which is both buildable and sufficient to the town's future needs.
Competition organiser John Glenday said: "Denny residents may have embraced the carbuncles cause, but they did so on the proviso that Urban Realm embraces their own long standing vision for a better Denny. This competition is an opportunity to look not just at what Denny is, but what it can be.
"We have put Denny through a strict low Carb diet, transforming the town from a rotten borough to a happy place. What future Denny do we wish to see? High or low density? Inward or outward looking? Car or pedestrian focussed? Entries received thus far ought provide food for thought for all those with a stake in Denny's future."
A panel of judges chaired by Wayne Hemingway and encompassing local residents and the Urban Realm editorial team will assess submitted work and select their favoured designs. The top three will be handed to Henry Boot Developments and Falkirk Council for their consideration for inclusion in the ongoing plans to regenerate the town.
There is still time to get involved so if you have a great idea for how to make Denny a better place we'd love to hear from you. Contact us at john.glenday@btinternet.com or 0141 559 6087.
A full summary of competing work can be found in this quarters Urban Realm magazine.
Back to November 2010