Glasgow Home opens its doors
|
Send to friend
November 19 2010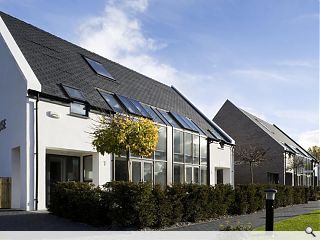 The first of a new breed of energy efficient homes have been completed for Glasgow Housing Association by PRP Architects, The Glasgow House.
Locally trained workers and apprentices from City Building built the two blocks of semi detached homes which feature alternate forms of wall construction in the Laurieston district of the city.
One employs a thin bed insulating hollow clay block construction with external wall insulation and a render finish. The other comprises a highly insulated timber frame construction with pre manufactured floor and roof cassettes and external walls of facing brick.
Tests are being conducted to determine the impact of these features on fuel bills, currently averaging around £1,100 a year for a three bedroom home.
Speaking of the design PRP Architects Stuart Carr said: "We anticipate that the houses will form the basis of future Homezones in terraced, semi-detached and linked configurations with attractively landscaped, secure public and private green spaces and play areas."
Back to November 2010