Wilson's Weekly Wrap
What's in a name?
October 21 2010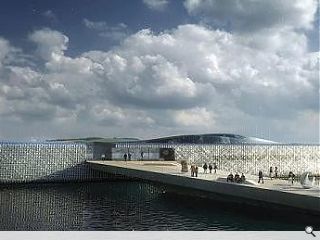 A week may be a long time in politics, but it is less than a nano-second in the unwritten history of Scottish architecture. How else to explain the faster-than-light goings-on surrounding Archial's slide into administration before emerging, Lazarus-like, under new ownership? The boys from Pricewaterhouse-Coopers clearly earned their fee on this one, having, apparently, lined up some 15-20 suitors to buy the group as a going concern without even needing to take the winding-up forms from their briefcases. And so Archial is now part of Ingenium, a name that seems more appropriate to a secret society in the pages of a Dan Brown blockbuster than to an international construction industry behemoth.
As ever with these things, the financial details of the deal remain hidden from prying eyes, but several publicly accessible elements to it are instructive. First, the revelation that Stewart McColl, the man who originally brought a variety of orphan practices together under his SMC brand before being ousted as chairman and the group being repackaged to the world as Archial, had in fact sold his shareholding at the beginning of this year. Now I don't know what the bold Stewart knew then that wasn't made apparent to anyone else, but he clearly chose to cut his losses and sell out his remaining 3.5% stake in the group for 7p a share and in the process take an astonishing hit of nearly £15m for not being so decisive in 2007 when the shares peaked at £1.89 each.
Stewart still managed to come away with nearly £600k though, which is rather more than can be said for Her Majesty's Revenue and Customs or the group's unhelpful bankers and the rapacious hedge fund majority shareholders, each of whom, PwC suggests, will get not a penny piece from the whole debacle. Not that we should feel any sympathy for this particular trio – HMRC was after all, the sulky party that chose to ignore the government's "Time to Pay" instructions to it for businesses in difficulty and pulled Archial's plug instead. The taxpayer, of course, has lost out by several millions from this bureaucratic strop, but then so too have the taxpayer-supported banks who will presumably not now see much, if any, any of Archial's substantial overdrafts repaid to them. Nor will the hedge fund boys, having had their majority shareholding summarily extinguished, be able to bleed anything more from the Archial cadaver
As things now stand, Archial's UK employees live to fight another day and Chris Littlemore has been reinstated as CEO by the new owners. Job done, you might say, but it surely can't be too long before Ingenium spots the group's inherent flaws and dispenses with a few of the less imaginative or productive offices it has bought (indeed, in one of its first actions, the new Canadian owners have decided to save themselves the journey time to the former Archial's Bedford and Ipswich outposts, consolidating both into the exisiting Cambridge office).
One man who must be pleased that he ingeniumeered his departure at a time of his own choosing, however, has to be Will Alsop. Not exactly renowned for his collegiate approach to working relationships, employment within the kind of corporate structure suggested on the Ingenium website might not perhaps have afforded the maestro the level of profile his remarkable talents demand. And the other winner? Step forward construction and oil tycoon Ian Suttie, boss of Aberdeen-based First Oil, against whom the now extinct organisation was about to launch legal proceedings to recover unpaid fees. For the fortunate few, HMRC's precipitate actions can clearly have their benefits.
Guggenheim-on-Tay? Aye, right.
The Scotsman headline called it 'jaw-dropping design', but I suspect none of the images of six recently published short-listed schemes for the proposed outpost of the V&A on Dundee's waterside are likely to induce this condition in anyone not directly connected with the project. Those who are form an interesting coalition of interests huddled under the moniker of 'Design Dundee Ltd', the latter affix indicating a private company has been set up to deliver the job – much like TIE was established in Edinburgh as an arm's length company but wholly-owned by that city's Council to administer large dollops of public money to bring the trams in on time and budget.
But I digress – Design Dundee Ltd is "a partnership between the Victoria & Albert Museum, Dundee and Abertay Universities, Dundee City Council and Scottish Enterprise" so you have to wonder which amongst this group is putting up the bulk of the £47m budget for the new company to dispense, no doubt wisely? It would be good if this redoubtable team could show us the colour of their money now, before we all get too much further down the Tay's shingly shore. Let's face it, when Sir Mark Jones first arrived at the V&A some years ago, he couldn't find the readies to build Danny Libeskind's then £90m Boilerhouse extension in South Kensington's Exhibition Road and the Museum is very far from being any more flush now. Dundee and Abertay Universities – like all such institutions in Scotland at the moment – are staring at funding cuts in the region of 20% and the city's Council is likewise having to find substantial budget savings in order to keep its front-line services alive.
The fifth partner, Scottish Enterprise, has had its jacket on a shaky peg ever since the coming to power of the current Holyrood administration and has been forced to restructure its internal finances downwards as well as make radical cutbacks in the amounts of money it can use to support business development in Scotland. So, before we progress to the project budget itself, let us merely note that in these austere times, each of the five partners derive a substantial portion – if not all – of their funds from the about-to-be savagely hatcheted public purse. No doubt the National Lottery will be mentioned at some stage, but with all of its grant money being poured into London 2012, I think the partners involved here should be advised that their £1 shares are going to need success of epic proportions in a Rollover Weekend if they're to touch the financial edges of this project.
And why might this be? The £47m construction budget too, seems some distance from a realistic assessment of requirements, being £3m less than that originally mooted for Zaha's wholly unspectacular tin 'Z' on Glasgow's riverfront and which although now costing £75m plus doesn't even extend out into the water in the way Dundee's project is intended to do. In any case, a quick glance at the six proposed designs would suggest that at least three of the architects decided on a Google Map viewpoint rather than trouble themselves with a preliminary site visit and have taken a similarly astral perspective of the purported budget when drawing up their ideas. Why else would Kengo Kuma & Associates, Delugan Meissl Associates and the doggedly named REX propose projects whose structural gymnastics defy not only gravity but any sense of financial reality? Come on guys, we've been down this path before, remember - and we have the world's fanciest Doocot to show for our troubles.
The other three projects, to a greater or lesser degree, involve home grown practices, with that by the Glasgow School of Art competition-winning tag team of Steven Holl and JM Architects stepping boldly out across an improbably long unsupported bridge to an ET-like luminescent entrance. Here too the design manifests an example of the current fashion for a large and almost certainly unnecessary cantilevered element and is otherwise distinguished by the intriguing idea of taking its glazed curtain wall down into the waters of the silvery Tay.
Snøhetta, by contrast has clearly learned from its miserable experience on its competition-winning Turner Gallery at Margate, and has made no attempt at another Canute-like project. Working here with Gareth Hoskins Architects, the design on offer has little of the waterfront panache of the Norwegian practice's Opera House in Oslo, but does at least look like some effort has been made to recognise the budgetary limitations, a touch of realism unlikely to find much favour with the dippy dreamers of Design Dundee Ltd.
The final project – by Sutherland Hussey Architects – has already been passingly characterised in the Scotsman's letters' pages by Lindsay Buchan of the eponymous Edinburgh-based practice as looking like a power station. Which, although I can just about see where Lindsay is coming from, seems a bit unfair given that the proposal is clearly within the lineage and design vocabulary of other Sutherland Hussey schemes such as their sadly unbuilt visitor centre at Blairgowrie.
No, the big problem with all of the proposals is that not one of them is likely to achieve Design Dundee Ltd's desired result, i.e. to deliver a Bilbao-effect on the city's waterfront, an iconic 'Guggenheim-on-Tay'. Quite apart from the fact that the phenomenon is no longer replicable (Edinburgh politicians and planners please also note), the DDL partners seem not to have noticed all of the other infrastructural improvements in the Basque capital that made it possible for Gehry's (then) $90m museum to become the flagship for that city's post-industrial regeneration. And if you're in any doubt about this, let me point you towards one random example: Hull and 'the Deep', "the world's only submarium" designed in 2001 by Sir Terry Farrell with £45.5m of Millennium Fund money and intended to revitalise that blighted port. You've not been down to see it? Somehow I don't think Design Dundee Ltd has either, but I can let them know the result: Guggenheim Effect nil, Hull City nil.
Loony Dunes
My reaction to the UK government's plan to raise student fees and make these poor creatures s and their families pay higher taxes for the rest of their lives and beyond, was to wonder whether or not greater cost savings in higher education might be found by simply closing the odd university? I have to be honest and say that it was the photograph in the papers of Sir Ian Wood grinning nervously at Donald Trump's coiffure - the latter larger-than-life personality now apparently US President-in-waiting - that prompted this thought, the connection being the awarding by the Robert Gordon University of an honorary doctorate to the Man who would be Menie.
The degree, given for Don Combleone's "business acumen and entrepreneurial vision" – skills, apparently, that are "a key part of the University's offering to students – has been seen by objectors to the big man's ambitious plans as testament to how far adrift this particular academic institution has moved from John Knox's dictums on the benefits of individual education to wider society and choosing instead to eschew independent and objective ethical standards in favour of some Apprentice-style money-grubbing. But such judgement would too harsh, for by conferring this new and almost ennobled status on the great man, the Robert Gordon University has surely knitted itself into the skeins of the Trump Empire, a thing of wonder in itself.
And with his newfound position at the heart of the Meikle Wartle business community, the Donald must now be held in much greater regard than as simply a man of bald intention – indeed throughout furryboot city and its environs he may henceforth even be considered to be a total topknot. So much so that when he hears of objectors referring to him as 'a complete loony' he can take comfort in the knowledge that they've come round to his way of thinking and that they're merely employing a complimentary Doric term for a male of quite individual character. In fact, seeing him now standing tall and surrounded by the north-east's Desperate Fishwives, one has to say, "what's up doc", indeed?
Meet the Flickers
Down in the capital, the usual spectrum of strange, sometimes wonderful, but mostly hopeless projects manage to capture the column inches. Chief amongst the most recent 'living on a prayer' stories has to be the re-emergence of Richard Murphy's plans to build a new home for the city's Filmhouse on the inappropriately named 'Festival Square.' Long-term readers of the Wrap will of course recognise this as one of the Scotsman's hardy perennials, emerging usually as a wholly synthetic stushie just before each year's International Festival begins. And to be fair to Richard, the unseasonal appearance of Edinburgh's own Groundhog tale has nothing for once to do with him – no, its down to one Gavin Miller, the man now responsible for the Lothian Road venue and its long running film festival who has taken it upon himself to suggest that "a new state-of-the-art complex could be delivered in the next five to ten years if funding could be secured."
Given the last part of that statement, it will come as no surprise to readers that the City Council,- as owners of the site, and initiators of an ambition to transform the surrounding area into the capital's new 'cultural quarter' - and the management of the five star Sheraton Grand Hotel that faces onto one of our better examples of Stalinist public space design, have both responded coolly to the idea. If indeed the notion can be aggrandised with the appellation 'idea' for this particular proposition has been a non-starter for at least fifteen years and is clearly no closer to reality now than it was then.
But Gavin is a man on the rise and, as chief executive of the recently formed Centre for the Moving Image (surely a more 21st century moniker than dowdy old 'Filmhouse'), insists that "the vision for a physical building is still very much alive." Worryingly for Richard, Gavin does not appear to have seen the director's cut of the Murphy Movie and may well be thinking of a new project altogether, for in musing on the subject he expanded to say "it's early days at the moment, but I think it is achievable in the next five to ten years when you take into account how long it would take to design and build such a centre. Obviously we would have to put together a case for funding and identify a suitable site, but it's definitely a priority for the next few years."
Gav's first challenge though is to stabilise the financial future of the Edinburgh International Film Festival – no mean task in itself and one surely provides ample time for Richard's main Bahama-based supporter to kibosh this interloper plan. Annual re-runs of the Murphy Movie can then be shown until such times as the forces of darkness and oppression give in and agree that the maestro's vision should form the veritable heart of Auld Reekie's cultural arrondissement..
Warring armies marshalled at Haymarket
Elsewhere in town another Murphy' war of attrition has moved to its next stage of battle. Yes, it's a return to Haymarket, previously thought to be the place where the architect met his Waterloo, but which can now clearly be seen to have been a mere march on Moscow, with retreat and a regrouping of forces only precursors to what may well turn out to be the real and perhaps final action. History will no doubt show that Scotland and Cheshire's most be-medalled and reputedly least self-effacing architect made many unnecessary enemies in his previous attempt to storm the heights of the capital from its western flank and it would appear that these disparate groups and individuals have now formed a 'coalition of the worthy' in advance of the further inevitable confrontation. So far, it has to be said, they've not found their collective voice, their previous public inquiry success in having Murphy's towering weapon of mass destruction decommissioned ironically depriving themselves of the firepower necessary to scupper his latest battle tactic.
This, however, is a very Edinburgh sort of conflict, with heritage groups standing back-to-back in gladiatorial combat against Tiger Developments Ltd and the early skirmishes fought out in the pages of the local press: The armies have taken up their usual positions with the war reporters scurrying from side to side to ensure the reading public at home receives a full understanding of the adversaries' respective manoeuvres. First, the illustration of the architect's new war machine – a quadripartite assemblage designed to accommodate the same quantity of explosive material as its predecessor, but this time with its destructive power disguised to appear more like the SOM time bombs employed by the US in the 1960s to anaesthetise the aesthetic sensibilities of whole city populations.
Scampering between the flak to the other side of the street to canvass opponent response on this latest lumbering engine of war, the Scotsman's battle-hardened Brian Ferguson found their hastily mustered forces in some disarray. The Cockburn Association – the capital's self-styled regiment of defence – could only mither that despite the reduced height of the weapon, any verticality at all in its construction would be viewed as a deliberate act of aggression. Worse, its battalion commander, Marion Williams, seemed offended that the architect couldn't even be bothered to confront them with iconic new weaponry, instead offering only a Heath Robinson-ish contraption bolted together from familiar blunderbuss components. Krzysztof Chuchra, of the Edinburgh World Heritage Trust's Polish platoon, was even more scathing in his assessment of the latest war plans from the architect and developer, suggesting that the entire battlefield be reconfigured to include Haymarket Station, the new extension to the Edinburgh International Conference Centre and even some trenches as far away as the city's Fountainbridge flank, before the assembled armies be required to march on each other.
Maria Kelly of the Dalry Colonies Association, a local partisan group, worried that the new mixture of building heights would be a problem for her troops who, being more used to house-to-house combat, would find the new and unfamiliar forms a problem terrain for their particular type of guerrilla warfare. Undeterred, the mercenary leaders of Tiger Developments have apparently lodged their new battle plan with the capital's War Commission which, still forlornly seeking reparations from other, now disbanded developer legions to help pay for the reconstruction of the city's transport system, is likely to give speedy approval to this latest advance.
So to war: the redoubtable collection of judicial retirees that makes up Edinburgh's Home Guard may have won the previous joust, but can the city's Captain Mainwairings survive long enough to triumph in this epic tussle to determine project life or death? Let battle commence, say I!
And finally…
Unlike the Snøhetta's of this world (mentioned above), Scottish practice's are rarely noted for punching above their weight in the international design stratosphere and whilst a smidgin of commercial success has been attained by a handful of our more commercial practices in some of the world's sandier environments and/or in places where human rights are rather less than visible, it has to be said that, by and large, Scottish architects are unlikely to be found in the forefront of the competitive global marketplace.
Except in the field of lighting design that is, and for more than twenty five years some of the world's best practitioners of this art have been based n Scotland. As lighting architects go, there can be few with more impressive credentials than Jonathan Speirs and it was therefore a pleasure to see that his achievements in working with some of the world's top architects and on lighting some of the most outstanding buildings around the globe have been properly recognised by his peer group. There can be few who have ever met Jonathan who would not think the recent presentation by the RIAS of only its fifth ever 'Lifetime Achievement Award' was not fully deserved, so it's well done to the RIAS for getting its act together on this and well done to Jonathan who, with his outstanding portfolio of completed commissions and shedloads of top international awards, has shown that you don't need a large office to get to play with the big boys. All in all, a genuine luminary.
Back to October 2010