Fraser wins Whitecross design comp
October 19 2010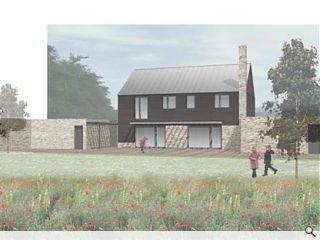 A design competition run by RIAS for the Scottish Government's Scottish Sustainable Communities Initiative has been won by Malcolm Fraser Architects and Stewart Milne Homes.
This sought proposals for a low carbon community at Whitecross, near Linlithgow, and saw five shortlisted entries selected from forty one submissions. These were Elder & Cannon Architects Ltd, Gareth Hoskins Architects Ltd, HTA Architects Ltd, Malcolm Fraser Architects Ltd, RMJM Scotland Ltd.
Chair of the judging panel, David Page of Page \ Park Architects, said that the development of themes explored at nearby Bo'ness and more recently at Scotland's Housing Expo served to sway the judge's decision.
Page added that a series of "…groupings of housing arranged around a sequence of courts and rows linked by a pedestrian spine stretching from the masterplan proposed civic garden in the north down to the river woodland walk to the south..." evidenced: "Clever manipulation of the building typologies adapted to the Cadell2 masterplan through adaptation of Stewart Milne Homes' prefabricated timber frame systems with innovative suggestions to the commercial development of the anchoring High Street."
Back to October 2010