Trump honour divides opinion in Aberdeen
October 8 2010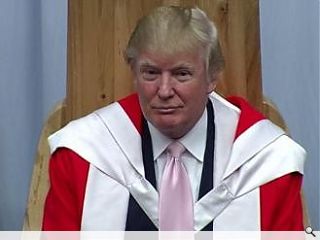 US tycoon, and possible presidential candidate, Donald Trump has received an honorary degree from Robert Gordon University, Aberdeen.
The property developer was presented with a Doctorate in Business Administration despite anger from some over his plans for a huge
golf course and housing estate
in Menie.
David Kennedy, a former principal of RGU, said he was "appalled" at the accolade but Trump retorted "I heard there was going to be a big protest and nobody showed up."
RGU chancellor Sir Ian Wood, no stranger to controversial development proposals himself, described Trump's presence as an "honour" and claimed that the golf development had been "widely welcomed" despite vociferous opposition from a "small vocal minority."
This was a reference to the Tripping Up trump campaign which has dogged Trump's attempts to push the development forward.
TUP has called on RGU to retract the ward and is scheduled to conduct a protest march in Menie on Saturday.
Back to October 2010