GSA's Mackintosh building proves no walkover for BBC
September 22 2010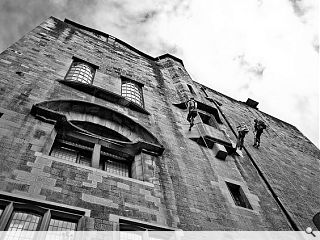 BBC2 is set to get viewers up close and personal with Glasgow School of Art's Mackintosh building tonight at 18:30 after being given exclusive access to the building exterior.
Dr Jonathan Foyle, presenter of Climbing Great Buildings, will tentatively descend the iconic façade at the end of a rope as he explores the intricate niches, crevices, stone and ironwork of the famous school.
The daredevil climb comes as Steven Holl unveils plans for the first phase of a major campus redevelopment for the school.
Foyle, an architectural expert and historian, told the Scotsman: "Climbing a building like the GSA makes you look at things very slowly.
"I've been studying buildings for 20 years and until this series came about, I have had the same vantage point as anyone else. But climbing them gives you the very same perspective that the people who built it once had, and it offers a very real insight into some of the details."
Image taken by Jason Brown of Abbozzo.
Back to September 2010