Dunlop publishes sketchbook compilation
September 22 2010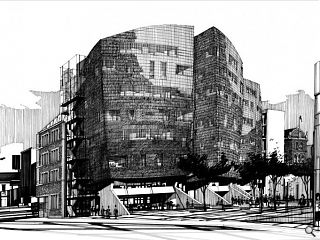 Alan Dunlop is a prolific sketch artist, drafting some 400 drawings over the past 10 years depicting projects ranging from built work such as Glasgow's Radisson, to competition entries such as a competition design for Dundee City Council.
Now for the first time Dunlop has drawn upon a selection of the best for a new publication aimed at encouraging students to drop the mouse and pick up a pencil.
In his foreword Dunlop gets to the nib of the matter, penning a manifesto for the pencil quoting Robert McCarter who said "No computer generated image gets close to the spirit of a great drawing." It is a message that Dunlop is increasingly taking to his students on the lecture trail.
Anyone interested in taking a closer look at Dunlop's handiwork is invited to
download a copy for free
or to request a high resolution version with a £10 fee.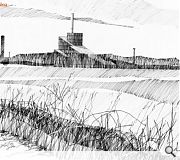 An eclectic subject matter makes for some intriguing views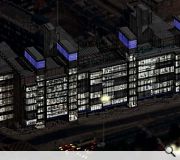 Colour makes a rare appearance in this perspective of an office scheme on the site of the ill fated Elphinstone Place
Back to September 2010