Keppie go Dutch for Citizen M build
September 15 2010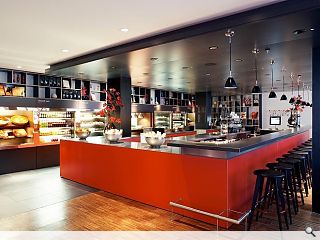 Keppie, working alongside concept designers 'concrete', has unveiled the first accommodation to be built for Dutch hotel chain Citizen M outside Amsterdam, a 198 room hotel in Glasgow.
The hotel features a range of flourishes designed to bed the contemporary design into its local context including a bright red carpet pattern based on a Google map of Glasgow city centre and a large metal gate to the service yard which features an image of the grooves found on the 'I Belong to Glasgow' record.
Digitally printed fabric exterior panels by Glasgow artist Alex Durdoy are mounted on the glass façade and add to this perception.
Clad in natural stone and aluminium the development is intended to present a robust response to context whilst marrying with planned commercial office space which will occupy the remainder of the former STV studios in Cowcaddens.
Construction saw structural bedroom pods built off site and stacked above a traditionally made split level podium, enabling a fast track construction programme to be adhered to whilst maintaining quality.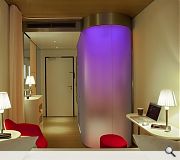 Quirky design flourishes make a nod to Glasgow's strong identity
Back to September 2010