Boriss Krutiks wins Skirmishes kiosk comp with house of cards
September 15 2010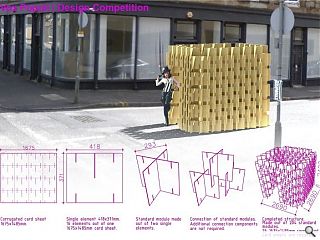 Boriss Krutiks of Riga, Latvia, has emerged as the winner of a project to design a street kiosk for the James Morrison Street Party
14 entries were submitted to the Vox Populi comp, organised by Skirmishes theatre, with Krutiks scheme winning out owing to an innovative use of corrugated card sheets.
Each sheet measures 418x371mm and can be slotted together with any other sheet to form a "module".
These modules can in turn be interconnected to construct a kiosk of the dimensions required.
The completed structure will comprise some 204 of these modules and is intended to act as a place where "the thoughts, reactions, suggestions, criticism and delight of the general public can be recorded."
The party is set to take place on Saturday September 18 between 10am and 4pm and include various street activities with many creative studios located there (headed by Page\Park) opening their doors to the public.
Back to September 2010