JAMstudio win Dalmore distillery visitor centre commission
September 16 2010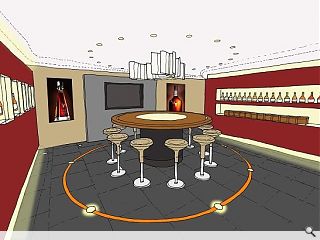 Husband and wife architecture practice JAMstudio, has been appointed to design a £1m visitor centre for Dalmore Distillery on the Cromarty Firth.
Tasked with capturing the "grandeur", "alchemy" and "legend" behind the Dalmore brand JAMstudio intend to fuse contemporary and traditional influences for the project which entails an extensive refurbishment of an existing 2 storey granite building.
Cutting edge technology will be incorporated in the design with LED lighting imparting a sense of theatre to the distilling process. Interiors will reflect The Dalmore's corporate identity of burgundy and silver alongside glossy black lacquer, velvet and leather and back lit frosted glass.
"The aim is to give it the ambience of a private members' club," said JAMstudio director Marie-Louise "and to provide a premium space for a premium brand. Features of the experience include hidden doors with a secret entrance from the shop through to the Alchemy Room where a circular tasting table will be internally illuminated."
David Robertson, rare whisky director at parent company, Whyte & Mackay, said: "We are thrilled to award this project to a company based in the North of Scotland. JAMstudio's success is a reminder that local firms can secure business with global companies by understanding the client's requirements and by being creative. We're looking forward to working together on a project that will reflect the status of an international brand and become a major tourist attraction."
Back to September 2010