Urban Realm vol.3 and ASA10 published
September 13 2010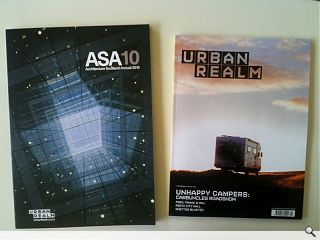 It's a double whammy this week as Carnyx publishes Urban Realm and the Architecture Scotland Annual 2010 in tandem.
Urban Realm has hit the road this issue on a dismal pavement pounder from |east Kilbride to John O' Groats, an illuminating experience despite the inclement Scottish weather.
We reveal the inside story over why John O' Groats was able to beat off stiff competition from the likes of Denny and assess what can be done to improve things.
Elsewhere we interview Alan Dunlop to find out more of Glasgow's newest practice from its most outspoken architect.
We also speak to RMJM's European Design Director Paul Stallan who reveals what office life is like with the familiar faces of Fred Goodwin, Frank Gehry and Will Alsop milling around.
Have you picked up yours?
Back to September 2010