Inehaze resubmit student housing plans
September 3 2010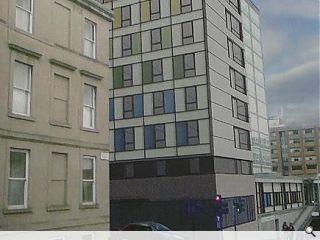 Inehaze has submitted revised plans for their £3.5m student housing development at 134 Renfrew Street, Glasgow, after an
earlier scheme
was rejected by planners.
Taking its design cue from the adjacent Fleming House, upon whose car park the structure will sit, architects Lewis & Hickey have attempted to straddle the competing scales of post and pre war development on the street.
Comprising coloured glazed curtain walling and blockwork the eight storey build suffered a stinging rebuke from a design review panel who castigated its "inappropriate" scale, massing and design.
Ctiticism was also levied at the choice of materials and a "deviation from the building line."
Inehaze, who had hoped to complete for the 2011 academic year, stressed that the structural costs associated with building on top of an underground car park severely constrained their available budget.
The developer has also refused to incorporate a green roof stating that, though affordable, such a feature would present irreconcilable "management" and "safety" issues.
Back to September 2010