Scott sculpture takes a dip in Cumbernauld
August 4 2010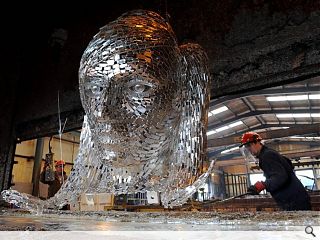 Sculptor Andy Scott's latest work, a 10m high feminine form, is preparing to make a first appearance in her new home of Cumbernauld by bathing in a 450 degree vat of molten lead.
The extreme clean was performed free of charge by local company Highland Galvanizers in order to prepare the sculpture for the notoriously inclement Lanarkshire climate by ensuring that the finished product will remain free from rust.
Due to be unveiled later this summer the £250k work incorporates two swooping arcs inspired by the New Town's original Gaelic title, 'Comar nan allt,' which means 'coming together of waters.'
Funded by North Lanarkshire Council it will overlook the A80, north of Auchenkilns junction and is intended to raise self esteem in the "Carbuncle" town.
Scott said: "Galvanizing is the last off-site fabrication stage of the artwork, and finalises the aesthetic appearance. As well as the obvious protective purpose, it also brings the sculpture to life and transforms her dark industrial steel to the graceful ethereal form I intended from the outset of the project."
Back to August 2010