Central belt to become green belt with reforestation plans
August 4 2010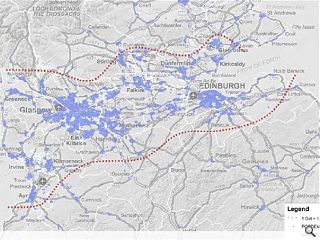 An ambitious plan to develop woodland and wildlife habitats across the central belt has been unveiled today.
The Forestry Commission, who are in charge of a £362k pot, say the money will be used for clearing felled trees, planting and access improvements.
A number of projects are being targeted in the drive, one of the largest of which is a £50k bid by Glasgow City Council to develop a Riverside Management Plan from Glasgow Green to the Cunningar Loop.
In Edinburgh meanwhile £23k will be spent on an audit and survey of the Millenium Woodlands to improve future management.
The money has been welcomed by environmental groups set to benefit from the cash, which has been released by Environment Minister Roseanna Cunningham.
Less enthusiastic are the Conservatives however, they describe the project as "window dressing."
Back to August 2010