Iranian embassy under siege from irate NIMBY's
August 2 2010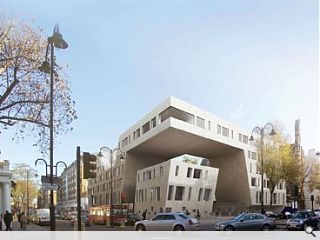 Iran may be no stranger to controversy but its latest project, a scheme to relocate its embassy to an uncompromisingly contemporary development in one of London's most prestigious addresses, has stirred a far more vociferous opponent than the US; local NIMBY's.
Designed by the Vienna based Iranian architect Armin Daneshgar the building is designed so that it can be "accessed freely by the public" so that it may showcase Iran's culture, with emphasis on contemporary movements, to the west.
As such it will feature an art gallery and cultural centre the cantilevered facility is projected to cost in excess of £100m and will embody "Iran's public image in London."
This marks an attempt to move on from the terrorism and hostage history of its current home in a nearby town house, scene of an infamous SAS rescue and has echoes of the US embassires similarly vexatious
flit to Wandsworth
.
But this has done little to assuage locals who have already branded the architecture as "out of character" with, perhaps inevitably, Prince Charles being namechecked as a potential standard bearer against the development..
Kensington and Chelsea are set to decide on the planning application this September.
Back to August 2010