Tigh-Na-Cladach launch marks first affordable Passivhaus homes
July 27 2010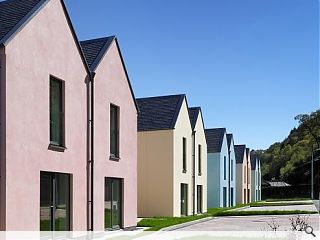 Fyne Homes Ltd has become the first UK housing association to deliver affordable Passivhaus homes with the unveiling of 14 terraced two bedroom homes on the Firth of Clyde, Dunoon.
Designed by architect Gokay Deveci 'Tigh-Na-Cladach', house by the shore, takes inspiration from the idea of Brighton beach huts with bold, contrasting colours used to elicit a sense of place.
Echoing the traditional form of fishing villages, whose gables face the sea, the design to reduces exposure to inclement weather.
The low energy homes annual running costs are the equivalent of burning three car tanks of diesel but whilst still providing their occupants with 21st century comforts with a heating requirement that sits at a mere tenth of what a traditional house uses.
This was achieved through attainment of an exacting standard of air tightness together with a heat recovery system.
Deveci said: "I have been designing low energy homes for a number of years and to have achieved the Passivhaus standard which is the cutting edge of low energy design is a considerable achievement for Scottish Housing".
Photography by Andrew Lee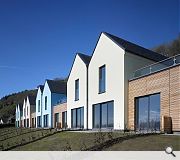 Fyne state that locals have warmed to these 21st century terraces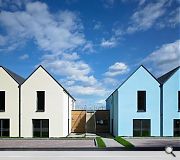 Jaunty colours have been used to impart 'vitality'
Back to July 2010