Gateshead car park reaches end of the road
July 27 2010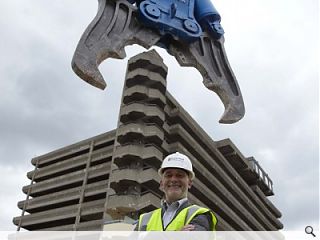 Demolition work has begun on an infamous multi-storey car park, immortalised in 1970's gangster flick Get Carter.
Gateshead Council leader Mick Henry was on the scene to oversee the destruction alongside brutalist architect Owen Luder, a judge at this years Roses Awards and architect behind the 1969 creation.
Speaking at the scene Luder said Gateshead was "losing its front teeth," adding that he felt "sad" over the untimely demise of his concrete structure.
The Gateshead multi-storey is making way for a
Tesco led regeneration scheme
designed by 3DReid and should be fully demolished within eight weeks.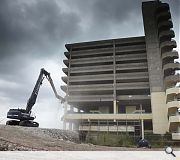 Fim fans have just eight weeks before the site of Caine's cinematic success is gone for good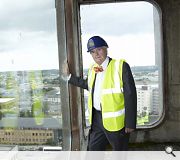 Owen Luder took a sentimental stroll round the rooftop restaurant which never opened and never will
Back to July 2010