Nord's Shingle House readies for first tenants
July 9 2010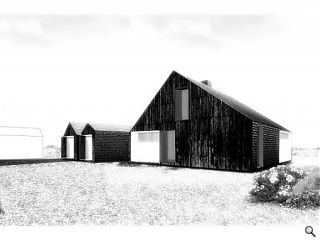 Living Architecture has unveiled an anticipated completion date for Nord Architecture's Shingle House in Dungeness, Kent. October 29.
From that date holiday makers will be able to sample life in a home designed by a top contemporary architect, as part of a bid to enhance the appreciation of architecture amongst the general public.
Brainchild of Alain de Botton, Living Architecture's creative director, the initiative is designed to showcase how the quality of our environment can impact on our happiness.
These ideas fermented whilst de Botton was in process of writing his latest book, The Architecture of Happiness.
Nord's home is one of five being constructed throughout the UK, with the intention to maintain production of one new home per year into the future.
Other architects involved in the project include Peter Zumthor, Michael & Patty Hopkins, Jarmund/Vigsnaes Architects & MVRDV.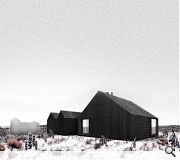 Comprising a bold form of tarred shingles the home is designed to respond to a dramatic setting which includes nearby Dungeness nuclear power station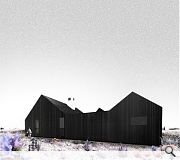 Locals are unhappy that an historic fishermans cottage was bulldozed o make way for Nord's vision
Back to July 2010