Archial design temporary living quarters for Sullom Voe gas plant
Send to friend
* Required fields
|
Send to friend
June 28 2010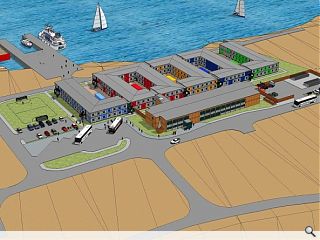 French oil and gas giantTotal has appointed Archial Architects to design temporary living quarters for 800 workers in Shetland, as the firm starts work on a £500m gas processing plant on Sullom Voe.
The facility will handle gas extracted from the Laggan and Tormore Fields which are situated 140km north west of the Shetland Islands.
In order to accommodate the workforce necessary to make this a reality Total plans to build temporary accommodation at the councils Sella Ness industrial estate.
The two storey compound will be clad in metal panels finished in red, blue, yellow and green alongside a timber clad amenity block. This palette is intended to aid wayfinding and echo increasingly prevalent Scandinavian style housing in the wider countryside.
Charles Smith of Archial Architects, said, "The proposed design solution for this project is based on a modular construction method involving pre-made accommodation units being shipped to Sella Ness, where there is a pier immediately adjacent to the application site. This transportation arrangement will enhance the sustainability of the development and avoid any disruption on the roads in Shetland.
"An added benefit is that it will allow the building to be dismantled in four years time when the gas plant has been completed, leaving the site in a fully serviced condition and suitable for use by a subsequent commercial operator."
Archial expect to submit a full planning application by the end of the month and have the facility in operation through 2012 in a phased programme.
Back to June 2010