7N Architects put petals to the metal for Speirs Wharf
June 28 2010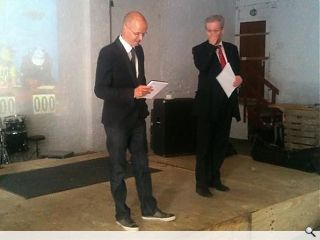 A flowering meadow is now in full bloom in the unlikeliest of locations, a motorway underpass in Glasgow.
Phoenix Flowers were officially launched today by Gary Watt of Isis and Transport Minister Stuart Stevenson in the fitting environment of a former glue factory turned artist's studios - perhaps explaining the LSD like creation of its hosts.
No ordinary flower arrangement these psychedelic petals actually constitute a fragrantless mineral garden of aluminium and granite, a lifeless ensemble that aims to bring life to Glasgow's forgotten northern hinterland.
The £1.4m project was very nearly sunk before it began after a burst water main gave the flowers an unscheduled watering, for which Transport Minister Stewart Stevenson admitted a degree of culpability stating: "The accidental soaking was my responsibility as I'm responsible for Scottish Water!"
Nevertheless an impressive clean up exercise has seen the waterlogged passage burnished into a palette of vivid reds, yellows and pinks to assault the senses of passers by as Fifty blooms, some up to eight metres in height, seduce pedestrians northward, flytrap like.
It is a journey that more and more people are likely to make as 7N Architects long heralded Speirs Wharf masterplan begins to take shape near Glasgow's Cowcaddens district.
Ewan Anderson, Partner at 7N Architects, explained his practices rationale: "The proposals for the underpass were deliberately "loud" to compete with the scale and visual cacophony of the M8 flyover. We have tried to grab territory back for pedestrians and cyclists who use this vital connection between Speirs Locks and the city centre. The colourful flowers illuminate the route and draw people through the space in deliberate contrast to the mass of the concrete, evoking a memory of Phoenix Park that once stood on the site. We hope it will brighten the journey for all those that use it."
Landscape architect Chris Rankin added: "Spatially the continuous flowing surface and colourful flowers contrast with the linear planted terraces which will in time continue up to the canal. The terraces utilise materials reclaimed from the site including stone setts and bedrock excavated during construction. Subtle references to the decorative ironworks which existed here prior to Phoenix Park are found in engraved granite panels."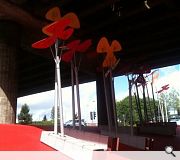 A botanical folly reclaims this vehicular through route for the pedestrian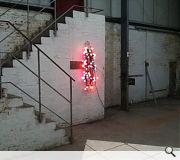 The Glue Factory is populated with a variety of odd installations
Back to June 2010