Gormley unveils first Scots work
|
Send to friend
June 22 2010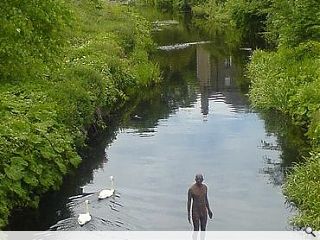 Sculptor Antony Gormley has completed his first sculpture north of the border, a series of six life-size cast iron figures along the Water of Leith dubbed "6 times".
Placed in sequence the lead statue is buried chest deep in the ground whilst four cohorts wend there way along the river as it wends its way through Edinburgh to the sea.
A sixth and final statue stands guard at the end of a disused pier.
Commissioned by the National Galleries of Scotland the work echoes the sculptors "Another Place" exhibit on Crosby beach, Merseyside.
The Crosby sculpture was built on a much grander scale with an army of 100 impenetrable figures staring remorselessly out to see over a 2 mile stretch of shoreline.
Gormley's work has received widespread public and critical acclaim but Lothian and Borders Police are likely to be less enthused by the work. They have already received numerous calls from concerned members of the public, alarmed at the apparent sight of people struggling in the water.
The austere figures have also perplexed some resident swans.
Image taken by
Saskia van de Nieuwenhof
.
Back to June 2010