ZM Architecture win Queen's Park Bandstand comp
|
Send to friend
June 3 2010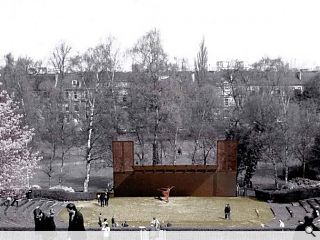 ZM Architecture have netted first place in the Glasgow Institute of Architects Queen's park Arena Bandstand Competition.
Judges were impressed with the multi purpose nature of ZM's proposal, a striking form which doubles as a "sculptural wall" when not in use.
Sections of this wall can be folded open to change the spatial qualities of the bandstand to better accommodate particular performances.
Writing on the
Southside Happening blog
TimNunn was largely impressed but raised concern over traffic noise, in this regard he preferred the publics favourite Superfusionlab design which he believed: "Would have done more to focus performance sound back to the audience and deflect the traffic noise."
Another anonymous local digressed however: "The winning entry looks functional, buildable and affordable. 73 looked good, but probably would have cost a pretty penny."
Back to June 2010