Canadian Super E homes bring Scottish house design in from the cold
|
Send to friend
June 3 2010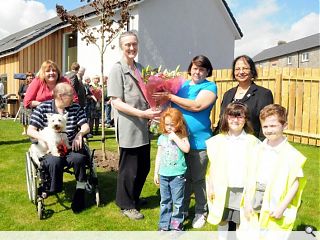 A new breed of affordable "super efficient" Canadian homes have been unveiled in the kincorth area of Aberdeen by Sushma Gera, Trade Commissioner at the High Commision of Canada to the UK.
Each 'Super E' home is designed to withstand the depths of a Canadian winter and as such demonstrate advances in air tightness, insulation, heat recovery and ventilation in comparison to native stock.
Tenants First Housing Co-operative in association with Aberdeen City Council have completed two of the properties thus far with plans for a further two in the Mastrick area of the city.
Sandy Murray, chief executive of Tenants First commented: "It (Super E) demonstrates what we can achieve from advanced design, in terms of energy efficiency, with innovative design.
"Our aim is to learn from our experience with this system and use that knowledge to advance the programme we are currently running, along with the Mackintosh School of Architecture, to develop a zero carbon affordable home for the future."
Back to June 2010