Made in Italy – The Influence of Italian Design
|
Send to friend
May 14 2010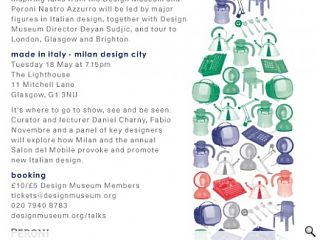 On Tuesday May 18 at 19:15 Glasgow's Lighthouse will be hosting 'Made in Italy – The Influence of Italian Design', a seminar aimed at stimulating a conversation about Italian design
To mark this important event Urban Realm has teamed up with the Design Museum to offer our readers free access to what promises to be an animated evening of discussion.
Speaking to Urban Realm museum director Deyan Sudjic, erstwhile Director of Glasgow UK City of Architecture and Design 1999, said: "What we're trying to do is have a conversation about how Italy has lived up to the reputation it's had for being somewhere special, what's made Milan in particular a hub for design and how it's gone on reinventing itself from generation to generation."
Initiated by Italian beer purveyor Peroni Nastro Azzurro, "Made in Italy" builds on Glasgow's Italian heritage to look at contemporary design from the southern European state and its continuing role and influence with Sudjic discussing the influence of the Milan International Furniture Fair with Fabio Novembre and Joseph Grima, of Italian design magazine Domus (which Sudjic himself edited for four years) and Daniel Charny, an academic at the Royal College of Art.
Simply fire off a request to tickets@designmuseum.org being sure to quote "Urban Realm" to obtain your pass, which includes complimentary Peroni and nibbles.
Back to May 2010